I have been, or can be if you click on a link and make a purchase, compensated via a cash payment, gift, or something else of value for writing this post. Regardless, I only recommend products or services I use personally and believe will be good for my readers.
There are times when a mom needs a quick meal that the kids will love. This hot dog casserole is one such option that is made at least a few times each year in our home. It is both easy to make and kid friendly.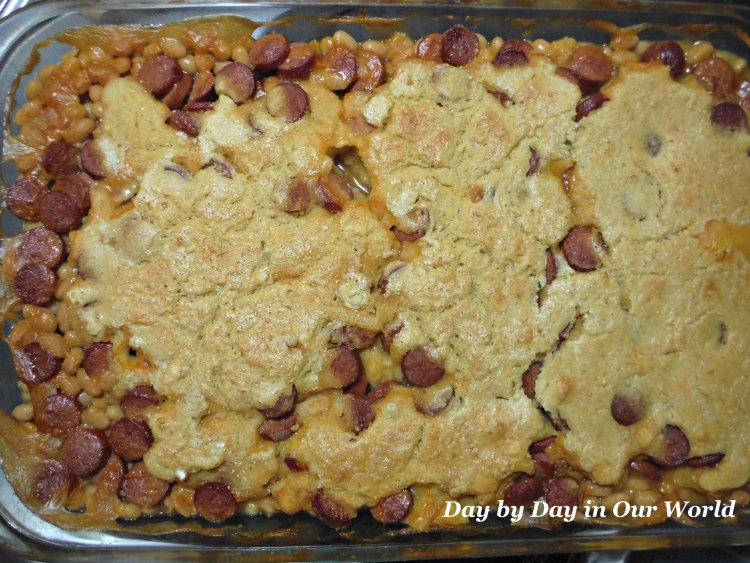 Note ~ Affiliate links are present in this post. Purchasing through them may result in a commission for us. There is no charge to you for using them. Many thanks to anyone who opts to help support the site with their purchases.
Making Hot Dog Casserole
Often times, when the boys ask for hot dogs they also want baked beans alongside. This recipe merges those 2 food options and adds a 'corn dog' twist.
This is also a dish which is easy for the kids to make (or help make if they are younger.)
At its simplest, the casserole involves opening cans, cutting up hot dogs, and making a quick cornbread batter.
For those that want a little more control over the ingredients, you can use homemade baked beans and a recipe for cornbread instead of a box. (While I typically go for canned beans, we do have a cornbread recipe that is used instead of a boxed mix.)
Jiffy Corn Muffin Mix, 8.5 oz, 6 pk
Martha White Yellow Cornbread Mix (12 pk)
Bob's Red Mill Stone Ground Cornbread Mix
Hot Dog Casserole Recipe
This recipe will serve up to 6 people, especially if you add a side salad.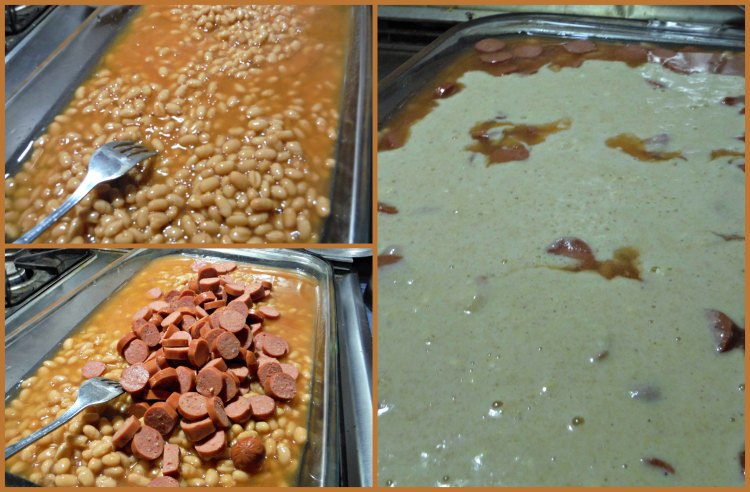 It does fill a regular 9X13 inch casserole dish. If you need to serve more and double the recipe, you'll want to have 2 casseroles baking.
Pyrex Basics 3 Quart Glass9 inch x 13 Inch
OXO Good Grips 3 Qt Glass 9 x 13
Rachael Ray Cucina Stoneware 9x 13-Inch
One word of caution, especially if the kids are helping….  Make sure to pour the cornbread batter in such as way that it is not pooling into one area. The batter will seep down and you'll end up scooping only cornbread from that spot.
Ingredients
3 cans baked beans
1 to 2 packages of hot dogs, sliced or diced
Instructions
Preheat the oven to 350 degrees F.
In large mixing bowl, prepare the cornbread batter per mix instructions.
Open up the cans of baked beans and pour into a 9X13 casserole dish.
Layer the sliced or diced hot dogs across the top.
Drizzle the cornbread batter across the casserole, going slow enough to not have it pool in one spot.
Bake for 20 minutes, or until the cornbread is golden and baked.
Scoop so that everyone gets some of the cornbread and enjoy!
Have you made hot dog casserole for the kids before?
Is this a dish they'd enjoy eating or even helping to make?