I have been, or can be if you click on a link and make a purchase, compensated via a cash payment, gift, or something else of value for writing this post. Regardless, I only recommend products or services I use personally and believe will be good for my readers.
Many moons ago, I took 2 years of Spanish in high school. I remember very little actual Spanish (just key phrases like Hola! Habla Ingles?), but I do have clear memories of the teacher relying upon the tools of her trade (terrible recordings that left a lot to be desired) and not truly engaging the class in the opportunity to speak until we were well into our 2nd year.
We've had several attempts to add a foreign language to the mix. I end up learning alongside the boys as we go through Latin and Spanish. However, I was starting to worry that high school Spanish might be too challenging for me right now.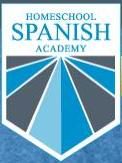 Homeschool Spanish Academy is a great option for a parent like me who feels a little inadequate when it comes to teaching a foreign language to their child. Your child (or children as they do have an option for 2 students to work together) has sessions via Skype with a native speaker. P is the one who's been doing this review and he's had 2 different ladies who've been his instructor for the classes. Both ladies are in Guatemala. As he's in the middle/ high school bracket for this review, the lessons last about 50 minutes.
The live sessions are heavily focused upon vocabulary and learning simple conversational phrases. The ladies have been quite patient with my somewhat reluctant teen who I can tell is also worried about pronouncing things completely wrong. They have also engaged him in conversation about not only his life but what things are like in their country. (We learned that books can be quite expensive there during one lesson.)
Materials needed are pretty simple for most families: a high-speed internet connection, web cam, and a Skype compatible computer headset with microphone. To ensure that your connection is fast enough, a technician contacts you ahead of time to have you test your speed and then connect with them via Skype and ensure the lag time is reasonable.
The first session was spent going over very basic vocabulary and phrases and gave the instructor the chance to evaluate P's ability. Considering we'd spent some time with Spanish and Latin instruction over the years, I was surprised at how much he didn't remember. On the flip side, I was surprised at how much I remembered. All this first hand knowledge about how his lessons have gone comes from his doing them without the headset. For the most part, that has worked well for him except for the few times a younger brother has come into the room to see what he's doing. Background noise can be distracting!
Shortly before subsequent classes, we were sent new lesson sheets (colorful pages with the different vocabulary and phrases) for the upcoming lesson as well as a homework assignment. The homework is to encourage the child to continue working on the previous lesson material so they can grow in knowledge and confidence in their abilities. This is one place where I dropped the ball and did not get after P to do the work and email it back to the instructor as he should be doing.
Overall, I've been impressed with the program. P's been doing middle school work according to the labels on the individual lesson sheets. So, I'm not sure if his current level would be sufficient for a high school program. However, it could also be a case of the high school student progressing through the material faster than a middle school student. But, the ability to learn in what is essentially like a private tutoring session from the comfort of your home is fantastic.
As for P's thoughts, he hasn't complained much about doing his weekly lesson since the first time. And, he was balking a bit when I told him this was a LIVE, in front of the computer class. Unlike past attempts to learn with audio or a computer program, the instructor is fluent in English and will bounce between Spanish and English as needed. I've yet to meet a computer program that does that kind of customization for a student while still providing the immersion style of learning to a point. He hasn't finished his half-semester yet and we'll evaluate how to best move forward in his learning.
Lessons can be purchased for half or whole semesters with the option of having the online lessons once or twice a week. Below is the pricing for one high school student (note the cost per class and compare that to the cost of a private tutor!) Visit the Homeschool Spanish Academy website for pricing covering elementary, middle school and adult levels as well as two on one pricing. They also offer a the first lesson complimentary so you can decide if it will work for you before paying for a complete program.
Finally, I'll leave you with a video featuring students who've learned Spanish through other avenues with their thoughts about this particular program.
Disclaimer ~ We were provided with 7 lessons (a half-semester) to facilitate a review as a member of the Schoolhouse Review Crew. No monetary compensation occurred and all opinions are my own. You can see what other Crewmates had to say about this product and others by visiting the Schoolhouse Review Crew website.