I have been, or can be if you click on a link and make a purchase, compensated via a cash payment, gift, or something else of value for writing this post. Regardless, I only recommend products or services I use personally and believe will be good for my readers.
Right now, nominations are in progress for the Homeschool Blogger Awards. There was chatter on the TOS Homeschool Crew boards about how some of us might not fit so neatly into those categories.
So…..the Homeschool Misfit Awards has been born!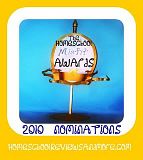 Now THIS award group has several categories I can see fitting!
The Blabber Blog Award (my boys would say I belong here as I'm forever snapping photos of them and sharing.)
Too Busy Blogging Award (yep, I have days when blogging is more fun for me to do than actually get all my homeschooling goals met.)
The Not Coming Soon Award (I've got a running list on my head of posts I WANT to write, but just haven't gotten around to doing.)
Do any of these describe you? Then head on over and nominate yourself for one of the Homeschool Misfit Awards. A feel free to nominate me, if you are so moved. My boys just might be doing that, too.