I have been, or can be if you click on a link and make a purchase, compensated via a cash payment, gift, or something else of value for writing this post. Regardless, I only recommend products or services I use personally and believe will be good for my readers.
Have you ever wondered what life is like for a missionary family?
You can do that now through a DVD series titled Growing Up Wild.

Our family was sent Volume 1 and Volume 4 for this review. Each DVD retails for $18.99 plus shipping and handling. There are 5 volumes available with a discount when you order the complete set ($80.99 plus shipping and handling.)
Volume 1 Episodes

Home Sweet Hut

In this episode, you will see a glimpse into the Wild brothers house and life. Learn how a house in the jungle is built and see the creatures that emerge in the night.

Supply Trip

How do the Wild brothers buy and bring in supplies for months while living in the jungle? Come and watch as this episode takes off on a little bush airplane and ends with a pantry full of supplies.

Sun & Water

Discover how the mighty sun's power and a rushing mountain stream can be harnessed and become useful daily tools for the Wild brothers and their family. Who knew learning about electricity and water pressure could be so much fun!
Volume 4 Episodes

Amazing World Around Us

Colorful pythons, tropical birds, a giant stick bug and a huge hairy spider are the stars of this exciting episode. Join the Wild brothers as they marvel at the amazing evidences of our Creator in the jungles of Papua.

Adventures In Culture

Cultures are fascinating and different for all people groups. In this episode, you will follow the Wild brothers adventures in culture as they learn about war, hunting, red fruit and nose piercing.

Tribal Calling

In one of our favorite episodes yet, discover how the Wilds knew that their calling was a tribal calling. Find out how icebergs, missionaries and the body of Christ are alike. You may be surprised to hear a calling of your own!
About the Wild Family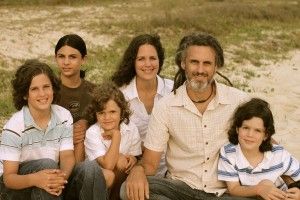 The Wild Family lives out their lives as missionaries in the jungles of Indonesia. They developed Growing Up Wild as a foreign missions curriculum with the hopes of giving children a broader worldview.
Our Thoughts ~
It has been interesting watching these short episodes with the boys. Some of them have been more well received by them then others. I think the Amazing World Around Us with a focus on animals (something they all love) was a favorite while seeing more about the difference in cultures was deemed 'creepy' by one of my boys.
I do like that the episodes are short (each DVD is about 45 minutes in total length, so individual episodes are around 15 minutes.) And, I like the suggested ways to expand the learning beyond the passive viewing of a DVD. Suggestions are given at the end of each episode as well as on the activity guide disc included with each DVD. Scripture is a part of each 'lesson' as well as having the kids dig a little deeper into topics (e.g. evolution versus creationism for the Amazing World Around Us episode) that are addressed in the show.
What I also appreciate is the Wild family's willingness to share what their life as missionaries is like. Seeing children around their own age living in such a foreign environment and thriving can only help them feel a bit more connected to the idea of life outside of our typical American environment. Also, this series may help plant a seed in a child to hear God's call to become a missionary as an adult.
Disclaimer ~ We were provided with the materials mentioned in this review to facilitate a review as a member of the Schoolhouse Review Crew. No monetary compensation occurred and all opinions are my own. You can see what other Crewmates had to say about this product.