I have been, or can be if you click on a link and make a purchase, compensated via a cash payment, gift, or something else of value for writing this post. Regardless, I only recommend products or services I use personally and believe will be good for my readers.
Anyone that knows our family is fully aware that Mr. O is a huge nature lover and the boys typically follow suit. I enjoy my occasional explorations as well, although the rustic backpack camping expeditions that the boys do with their dad and the Scout Troop are not my cup of tea.
If there is one thing about living in Alaska, there is no way you can NOT easily get outdoors and explore God's creation. It is all around you, even in Anchorage!
Rather than do just a showcase post featuring previous posts here on the blog, I thought I'd find some photos that haven't been published. You can always read more about our Alaskan Adventures which include both outdoor and attraction based posts.

When the weather is good, the boys love to get rides on the back of Mr. O's 4 wheeler. If we decide to stay here for the long haul, we seriously need to get a couple of newer ones for the family. There are so many locations that are best accessed with those machines in the warm weather months.
Whether it is in the backyard or at a campout, a campfire with s'mores is a must do in the summer months. Below is a photo from when my sister and her family came to visit in May. Talk about a great way to build relationships and memories at the same time.
One May also saw the older boys at a weeklong horsemanship camp for Boy Scouts. Although they were hesitant at first, the ended up loving the horses and almost wished we could have our own.
Getting out on the water is one way Alaskans enjoy the summer weather. Whether it is a seaworthy boat on the open water or an individual craft like a canoe or kayak, being on the water is awesome.
We are very blessed to have friends with kayaks to enjoy at a local lake. The older boys love the chance to get on the water. My silly D decided he'd already gotten a little wet and ended up swimming in his clothes.
Other times, we just enjoy walking through nature whether to see a particular site or to pay a visit to a big brother at Boy Scout camp.
Regardless of what we are doing, the enjoyment is almost always the same. And, I must admit that there are times when just sitting outside and basking in God's handiwork is just what this mother sometimes needs the most.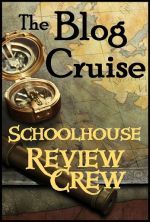 Check out what other Schoolhouse Review Crew members have to say about
Exploring the Great Outdoors!
How does your family explore the natural world around you?
This post was originally published on Oct 8, 2012.