I have been, or can be if you click on a link and make a purchase, compensated via a cash payment, gift, or something else of value for writing this post. Regardless, I only recommend products or services I use personally and believe will be good for my readers.
When you have a cool piece of technology, it is normal to find different ways to use it. There are so many options for apps you can find out there. Some are free, some are purchase only and some are free to get with in-app purchases required to use it. Now, with Amazon Underground loaded onto my phone, I can grab some really awesome apps that are now totally free!
As I can't help but share something I love, I am thrilled to share more about how you can do this. After all, those of us living on single incomes and trying to make the money stretch when raising kids need to save where we can. Plus, I can rest easy that there won't be charges on my credit card if the kids find something they want to try.
What is Amazon Underground and How Do You Get It?
Everyone is familiar with Amazon for ordering a variety of goods. They've also had a great app store and it is where I've gone for my Kindle Fire apps. Now they've launched Amazon Underground for 5th generation (2012 and newer) Fire tablets as well as Android devices running Android version 4.0 or greater.. This is a place to get a variety of apps at no charge and no hidden fees to pop up later. Customers do need to be in the United States, UK, Germany, France, Italy and Spain.
Getting Amazon Underground is a simple process involving just a few steps.
On your Android device, start by opening your browser and visiting the page to download the Amazon Underground app. You will need to enable the Unknown Sources setting for it to download and function. The process is explained for you (although anyone can quickly pop into their device's security settings to find it, too.) Once enabled, you can download apps and games from sources other than Google Play. Any app or game downloaded from Amazon Underground will not harm your device. Other sources should be vetted before downloading.
Reading this on a laptop? Go HERE and follow the on-screen instructions.
When installing Amazon Underground, your device may display a notification indicating that the app will get access to sending SMS messages, and that "this may cost you money." At this time, SMS verification is only used by the Amazon Underground in selected regions and is not required if you have an account on Amazon.
A bonus feature of Amazon Underground for me is the ability to now access Prime eligible videos! While I usually use my Kindle Fire to do this, I love the ability to now watch something on the go when only my Android phone is with me.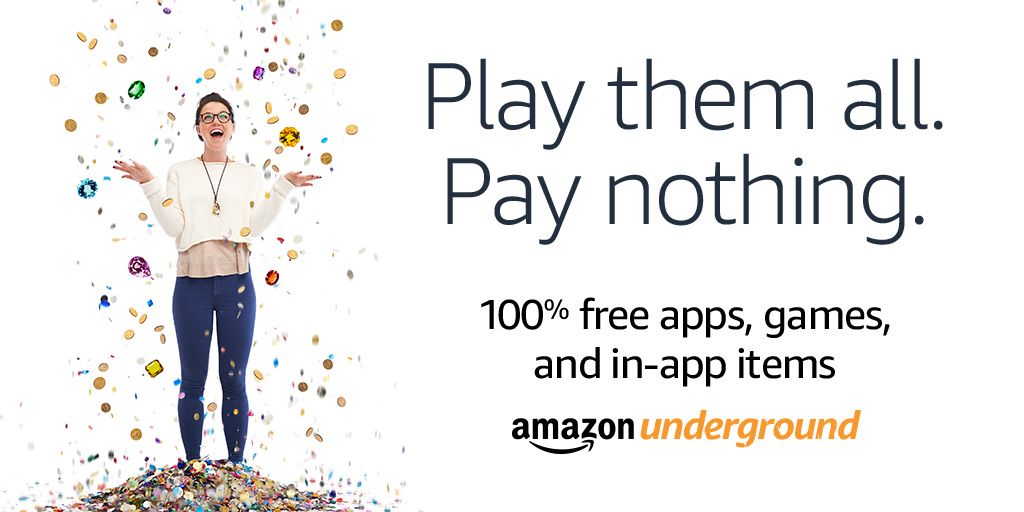 It really IS simple to do. I even walked one of our visitors through the process this past week and she's tickled to have some new options for apps at her fingertips with no need to purchase a thing.
Apps for the Family on Amazon Underground
There is such an awesome variety of apps whether a game to entertain the kids or a tool to make life more productive.
My youngest son was jumping up and down when he saw Goat Simulator Waste of Space and Dr. Panda's Restaurant 2 . I saw WordMix Pro which is one that can entertain while also challenging the brain cells enough to be considered educational for the kids. And our visitor downloaded a Mahjong game which she and my youngest son enjoyed.
For me, I opted to test out a photo editing app to see how it compared to a few others I've tried on my phone. The app I tried is PhotoSuite and so far I like it.
I can see playing with that particular app quite a bit as I'm using my cell phone more and more for snapping pictures on the run. Here's an example of a photo I toyed with in the PhotoSuite Pro 4 app:
In a nutshell, "the Amazon Underground app combines Amazon's best mobile shopping experience with instant streaming of Amazon Instant Video PLUS 100% free apps, games, and even in-app items. Unlimited lives, levels, upgrades – everything!"
What's not to love about that?
I know we'll be checking out many more of the apps available through Amazon Underground from now on.
Have you tried Amazon Underground yet?
Will you add Amazon Underground to your Android devices?
I was selected for this opportunity as a member of Clever Girls and the content and opinions expressed here are all my own.