I have been, or can be if you click on a link and make a purchase, compensated via a cash payment, gift, or something else of value for writing this post. Regardless, I only recommend products or services I use personally and believe will be good for my readers.

Winter is in full force for much of the United States. After three mild winters, the snow came back strong in Alaska. This means finding a good balance of outdoor fun for the boys to enjoy winter and indoor activities to stay warm. Beyond this, we are always looking for ways to give back to the community with First Book being the latest.
Enjoy Winter And Support Literacy Through First Book
There are a few activities the boys love to do during the winter. Snow is a must for many activities, like sledding or a good old fashioned snowball fight.
Of course, there's also the need to shovel the driveway so we can get out of the house. But, that's more 'work' and less fun.
Enjoy Winter in the Snow
With a few feet of fresh snow, a few of my boys dug themselves mini-forts.


Using sleds for protection, they began their snowball fight.
Classic winter fun that costs you nothing!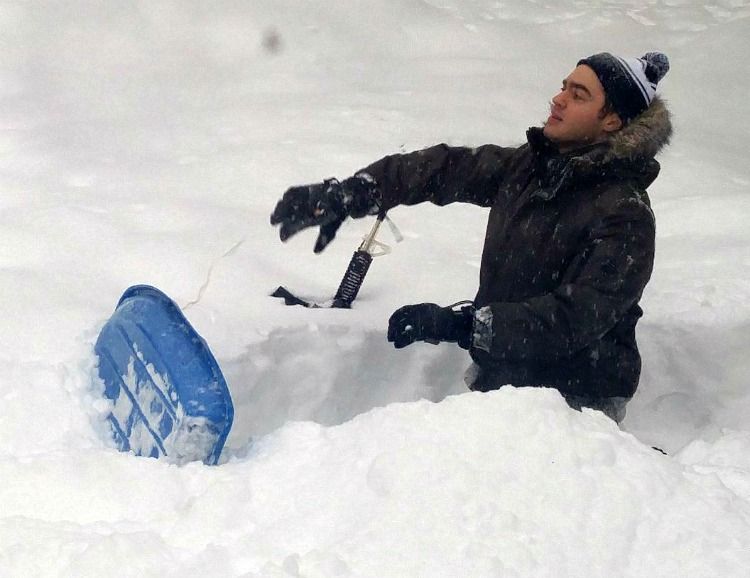 Enjoy Winter Inside
Of course, there are times when going outside to play just isn't going to happen. We had several days earlier this month where the temps stayed well below zero. The only thing happening on those days were excursions in the vehicle that could not be put off for a later date. This mama does not like to be super cold!
Watching a few favorite shows is one thing that the boys enjoyed. Between DVDs we own and streaming services, there were a lot of options.  However, I don't want the family to turn into couch potatoes. So, reading is always encouraged.
Even my youngest son is now found curled up under covers with a book to read.
Seeing the boys all enjoy a good book warms this mama's heart.
Enjoy Winter & Pay It Forward With Pizza Hut, Fruit Shoot & First Book
At the end of a busy day, it is always nice to surprise the kids with a favorite food like pizza. My youngest and I swung through our local Pizza Hut for a few pizza pies ordered for takeout the other night. It had been a long day filled with outdoor play and then his first Pinewood Derby.
The temperatures might have been cold outside, but our local Pizza Hut was toasty with a freestanding fireplace.
As the older brothers had stayed home, we brought our takeout pizzas and Fruit Shoot® home to enjoy.
Right now, many of the Pizza Huts across the United States have a promotion as part of the Pizza Hut: The Literacy Project.
When you fuel the kids with awesome pizza and drinks, you can help fund the charity, First Book.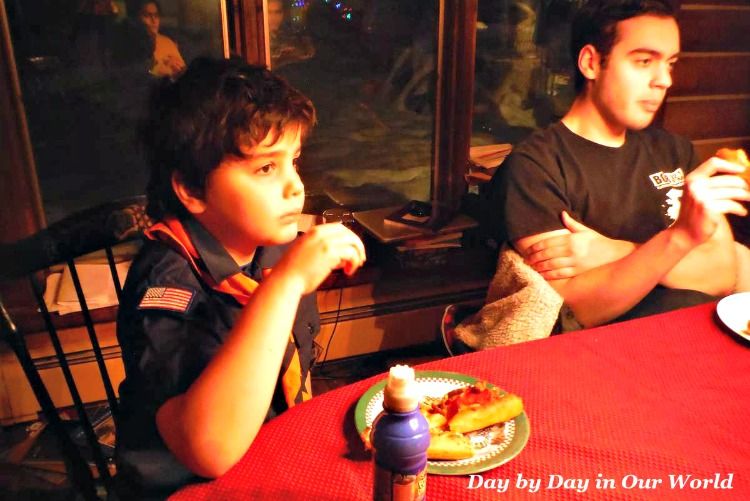 What is First Book?
First Book is a non-profit with the goal of getting books into the hands of children in low-income households, schools, and communities. Books are often scarce there and literacy rates are much lower.
Did you know that 79 percent of fourth graders from low-income households do not read proficiently? Literacy is a key predictor of a child's future educational and economic success. Helping provide access to books and other tools for learning is one way to help improve those literacy rates.
Every time a Fruit Shoot® product is purchased at Pizza Hut® from Nov 10, 2016 – April 30, 2017, .05¢ will be donated per bottle to the First Book literacy program.
What are some ways your family enjoys wintertime?
Is heading to Pizza Hut® for refreshment a way for your family to bond during the winter?
Have your kids tried Fruit Shoot®?