I have been, or can be if you click on a link and make a purchase, compensated via a cash payment, gift, or something else of value for writing this post. Regardless, I only recommend products or services I use personally and believe will be good for my readers.
Homeschoolers have a unique opportunity to encourage their pre-school aged children in learning. After all, they may be surrounded by older siblings who are learning all the time and even willing to read aloud to them. However, I have found that it can be more challenging when balancing older grades to come up with what to do with your child based on normal abilities for their age and stage of life. J and I have been enjoying some 'school time' using lesson plans by Flowering Baby the past few weeks and given how well it is going I can see us continuing for a while longer.
About Flowering Baby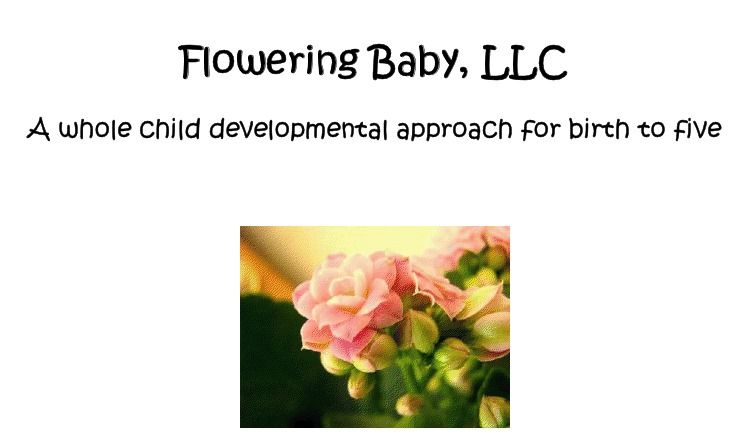 Flowering Baby, LLC takes a "whole child developmental approach" to learning from birth through age 5. The curriculum is co-authored by Martha Saunders (homeschooling mom to an energetic boy) and her mother, Carolyn Schulte who has a degree in early childhood education with many years of experience working with special needs.
Curriculum is available for birth to one, one to two, two to three, three to four, and four to five year olds. Until reaching the 3 year old mark, the materials are based on age (with some kids possibly doing more earlier if they have reached the necessary developmental milestones.) For the 3 to 4 and 4 to 5 age brackets, the curriculum can be done by month of the year or by theme. Different subjects (e.g. math, language and science) are included for those ages, too. Regardless of the age, the activities are meant to take approximately 20 to 40 minutes each day and instill a firm foundation for future learning.
Pricing for the curriculum is dependent upon the years covered ($30 each for the younger levels; $38 each for the Three to Four or Four to Five materials, and $132 for the entire curriculum from birth to five.) These are on CD as pdf files, with alternate ordering information provided on their website for international customers.
Our Thoughts about Flowering Baby
For this review, we were sent the Three to Four and Four to Five year old curriculum on CD-ROM. As J is a younger 3 year old right now, we used just the materials from the Three to Four program.
We have used the different lesson plan materials from Flowering Baby as a launching pad for our learning adventures. While I like the day by day layout for each month of the year, I found that I was having a challenging time finding the suggested books in our library system in a timely manner. Plus, I know that my boys have sometimes enjoyed spending more time on just one topic at a time. Hence, my decision to dabble from both the monthly and theme curriculum for now.
January had me searching for our copy of Blueberries for Sal while crossing into February had us reaching for books on snow and Curious George. I've really savored our special time together on the couch reading books. And, with the snow theme, he's had fun playing IN the snow outside with his brothers.
Knowing that he would love some focus on dinosaurs, we pulled some books that fit from our shelves and supplemented with books from the library. Matter of fact, we've taken the dinosaur themed unit slowly as we wait to get approved materials from the garage to make a dinosaur environment a little at a time. While waiting, though, we've used an empty box for a play area where dinosaur battles can occur.
What I really have liked is that I can make adjustments (e.g. book titles) while sticking with the appropriate themes. Beyond the read alouds, J loves an excuse for listening to different music and getting that uninterrupted time with me. Each day has needed on average 20 minutes for our preschool fun, which is perfect for his attention span at the moment. Overall, I find it to be a really gentle approach to learning which seems to be building our own relationship, too. I am anxious to see how he continues to grow while use this current level and then moving into the four to five curriculum next year.
Curious what a month's worth of material looks like? Check out the samples by age range on Flowering Baby:
Birth to One
One to Two
Two to Three
Three to Four
Four to Five
If you like what you see, use the code "Blog10" when ordering from the Flowering Baby website for 10% off your purchase.

Disclaimer ~ I received a free copy of this product through the Schoolhouse Review Crew in exchange for my honest review. I was not required to write a positive review nor was I compensated in any other way. All opinions I have expressed are my own or those of my family. I am disclosing this in accordance with the FTC Regulations.