I have been, or can be if you click on a link and make a purchase, compensated via a cash payment, gift, or something else of value for writing this post. Regardless, I only recommend products or services I use personally and believe will be good for my readers.
This shop on how to embrace adventure without worry about the mess has been compensated by Collective Bias, Inc. and its advertiser. All opinions are mine alone. #allfreeclear #CollectiveBias
If there is something people think about when you say Alaska, it is adventures. Even if you live in the thick of Anchorage (which we don't), you can hop in a vehicle and be out in the wilderness within 30 minutes. When it comes to their childhood, I want the boys to remember having fun in the great outdoors and not a mother who fretted about getting the stains out of their laundry!
If I let the slightly type-A mom come out, then I find myself doing a lot of fretting over potential messes.
When everything is thawing here, I fret about the mud. Even just walking through the slush can end up spraying the legs of my jeans and pants with mud splatter. If you have all out puddles on the ground, my youngest just might splash you good as he purposefully walks in every puddle he can find.
With our abnormally early spring and recording breaking temperatures in Alaska, we have a lot of dust now. Until all the roads are swept and watered down, there's dust kicked up as people drive down the roads. Vehicles end up with a coating of dust that gets onto your clothes if you brush against them.
As the grass starts to grow, I think about grass stains from boys having fun in the sun or just sitting down for a quick respite at a local park. Or, if you visit a local lake with a small beachfront you can end up with sand on everything.
And then there is the idea of a cool, refreshing ice cream cone or roasting marshmallows on an open fire for s'mores, both of which can generate some seriously sticky messes.
All that fretting could lead a mom wanting to keep her family's clothing pristine to have them wearing coveralls or abstaining from all their outdoor adventures.
But, where's the FUN in that?
Rather, our early spring bringing gorgeous weather here in southcentral Alaska has me wanting to enjoy the outdoors alongside the boys. At the same time, I do not want is to worry about what we're tracking into the house and how it will affect my own allergies. And, I don't want to be wearing any scents that can impact my sensitive skin.
When it comes time to get things clean, I like to use a product that tackles stains while not adding on fragrance. My personal immune system is on overdrive these days, so I need something that won't add to the mix in a negative manner. Sadly, some fragrances do just that. Plus, I want to make sure that when things go through the wash I am removing both everyday and seasonal allergens like cat and dog dander, dust mite matter, ragweed, grass, and tree pollen.
On a recent trip to our local Sam's Club, I spotted containers of all® free clear detergent and all® free clear Mighty Pacs® on the shelves. I'll admit that what first drew me to these products is that one container can do more than 100 loads of laundry. Plus, buying in bulk at a warehouse club means a lower cost per load. Four boys in the house = a lot of loads running in our washing machine! Just the ability to save me money and not need to purchase laundry detergent on a bi-weekly basis is a boon.
However, I was sold on bringing home a large container of all® free clear detergent when I saw it met all my personal needs in a laundry detergent and is the #1 Recommended brand by Dermatologists, Allergists, and Pediatricians. Plus it can remove up to 99% of those everyday and seasonal allergens I need to be gone! (*note that all free clear is not intended to treat or prevent allergies.)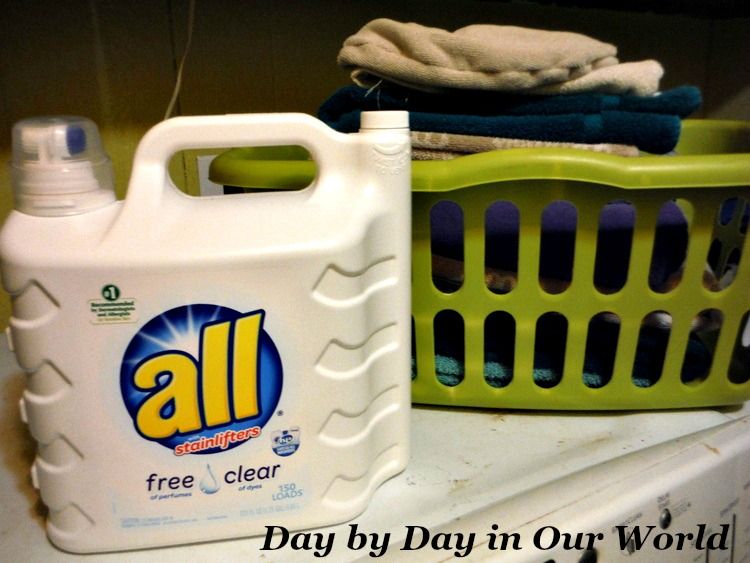 Now that I have plenty of all® free clear detergent in the house, let the outdoor games begin!
Beyond the typical hikes with dad on the weekends, I hope to see my boys actively playing in the yard. And we will be prepared for clean up after short RV trips around Alaska this summer.
What are some of the fun, but messy, activities that your family enjoys where all® free clear detergent can get the clothes clean?