I have been, or can be if you click on a link and make a purchase, compensated via a cash payment, gift, or something else of value for writing this post. Regardless, I only recommend products or services I use personally and believe will be good for my readers.
The boys and I have enjoyed past studies of ocean animals, especially when we could add some great videos to the mix for learning.  There is nothing quite the same as seeing the animals 'in action' and in their natural habitat.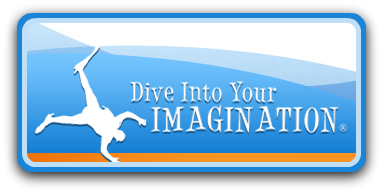 Annie Crawley's line of Dive into Your Imagination DVDs give you that glimpse of ocean life along different themes, all without the need for an expensive field trip that includes scuba diving to see them up close.
Our family received the DVD titled Dive into Diversity for review as well as the accompanying teacher guides.
The DVD:
First off, I have to say that I am loving the DVD.  There are several short segments focused on a theme.  You have Annie narrating with music in the background and wonderful, vibrant images of underwater life on the screen.  I was amazed at how many little facts I had either not heard about before or had forgotten (e.g. how many products we use have kelp in it!) The material is very friendly for the Christian homeschooler who wants to avoid the evolution issues found in many mainstream documentaries. I definitely prefer my science materials to be 'all about the facts' and not about theories that are highly controversial or with which I disagree.
For curious minds, here is the line-up of segment titles:
Night Diving on the Reef
Dive Into Diversity!
Be A Submarine Pilot
Swim in a Kelp Forest
Invertebrates of the Sea!
Coral Reef Living
Vertebrates: Animals With A Backbone
Wacky, Weird, Crusty Crustaceans
Educator Guides:
Going with the DVD are a series of new educator guides.  She has them for pre-K to K and Grades 1-3.  For each video segment, there are several activities to choose from to delve into the topic.  Each segment's section of these files has a bit of character education, an 'imagination value' section as well as discussion questions for before and after viewing the segment. 
I got busy using some of the activities from the one for grades 1-3, that I completely overlooked using the pre-K materials with J.  Good thing he's just getting ready for those kinds of activities as I can see having a lot of fun in the next few years with this product. He was tickled to have his own coloring page from the older grades packet, though.
I really like being able to pick and choose what will work in our house.  With around 300 pages in the complete guide, there are plenty of things to keep you busy! Some activities are more 'worksheet' like (e.g. word scrambles) and are easy to implement.  Others require a bit more preparation by the teacher and gathering of supplies.  However, I can see how much fun J will have with things like painting their own reef using textured materials and paints.  Hands-on learning is the best for the younger ages and I suspect my older boys would join in on those activities with their younger brother, too.
Check out this promotional video to give you a better idea of what a great resource this could be:
Available DVDs ($19.95 each):
What Makes a Fish a Fish?
Who Lives in the Sea?
Dive Into Diversity
The educator guides are $299.95 for both levels in print (before shipping) for one of the DVDs.  She is also planning to offer the pdf files for $69.95 per grade level.
Special deals for my homeschooling readers:
These specials are only for orders placed through Annie Crawley's website.
Purchase one of the DVDs, indicating in the comment section that you are a homeschooler who would like the educator guides to receive the accompanying educator guides in pdf format for free! (limited time offer)
Also, all DVDs have free shipping through the month of June 2012.
These DVDs with the educator guides could make for a wonderful year of science exploration with your early elementary children.  Or, use them to supplement another program focused upon ocean life.
Disclaimer ~ This review was done as part of The Old Schoolhouse Homeschool Crew program with time limited access to the product for completing the review.  No monetary compensation occurred and all opinions are my own. Pricing and information is current as of this review's publication date. You can find the thoughts of other homeschool parents at the Homeschool Crew page for this product.