I have been, or can be if you click on a link and make a purchase, compensated via a cash payment, gift, or something else of value for writing this post. Regardless, I only recommend products or services I use personally and believe will be good for my readers.
Studying the Bible with the boys is something that I really enjoy, but don't do it nearly enough.  They will read their Bible on their own.  Yet, I long for them to
God's Great Covenant, NT 1: A Bible Course for Children from Classical Academic Press is making it easier to help guide the boys in Scripture study without too much advance planning on my part.
About the Book:

In God's Great Covenant, New Testament 1: A Bible Course for Children, students will follow the story of Jesus, the Messiah and King, as He is born and fulfills all God's promises. But Jesus does not arrive as people expected. The people were looking for a mighty warrior to deliver them from the oppressive Roman government. Instead, He came as the suffering Savior, who would die as the sacrifice for sin and death. He was building a kingdom that was not of this world—it was the kingdom of God. He is the Son of Man, God's Servant, the Messiah, and the Son of God. Each of the four units in this text emphasizes one of these names of Jesus. God's Great Covenant, New Testament 1teaches the Gospels to students in fourth grade and up, using stories, worksheets, memory verses, devotional guides, quizzes, and a little boy named Simon. In the introductions to the text, students will also learn about the historical, cultural, and geographical setting of the New Testament. This book is a most comprehensive and heartfelt study of the Gospels, and many parents and teachers will find themselves learning along with their students.
After a wonderful introductory section that is full of wonderful background (e.g. historical/political information, geographical information and daily life through story), the book is divided into 4 units containing a total of 36 chapters which walk your student from Christ's birth through His Ascension.  Each chapter (aside from the review ones) contains a memory page, story time, a worksheet, and quiz.  The Units are wrapped up with a review chapter, memory verses worksheets, a devotional guide and then a peek back into Simon's World (the daily life character introduced before the start of Chapter 1.)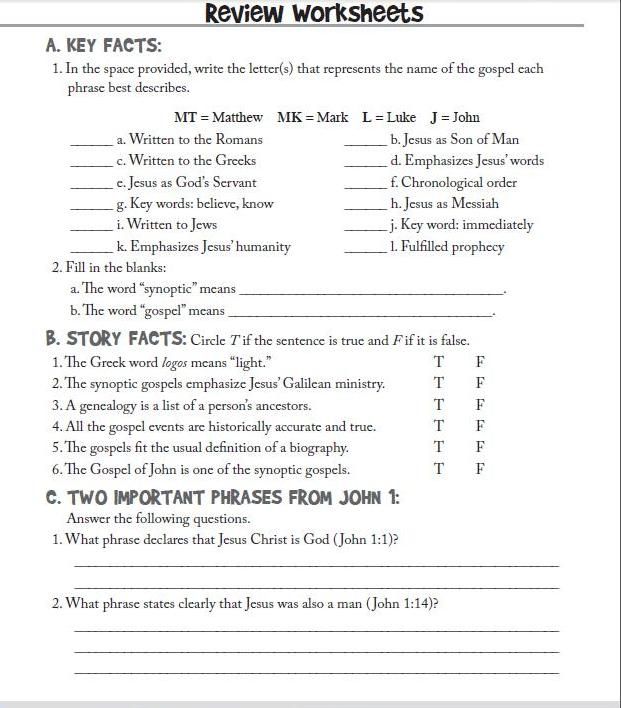 One of the things I love about this particular program is that on the memory page there may be multiple Scripture passages referenced only by book, chapter and verses.  This allows your child to pull their own Bible off the shelf to look it up and read.  The story time sections are engaging (and can be done through the audio book which makes it easier to use this with multiple children at once.)  And, the worksheet activities are brief and well focused on drilling the key facts.
We have not gotten through too many of the chapters in the first unit.  However, we are enjoying the process and I am hopeful that continued usage of this program will have the boys learning more about Christ's life than they have before now.  I am really impressed with the teacher guide.  The student pages are inset with lots of room for notes for the teacher/parent about the material being studied.  They've even included some room for you to make your own notes.
God's Great Covenant, NT 1: A Bible Course for Children is $26.95 for the student worktext, $29.95 for the teacher edition, $9.95 for the audio files and $56.95 for the complete bundle.  If you visit the website, you'll find sample pages from both the student and teacher editions.
Disclaimer ~ Our family was provided this program for the purpose of writing a review post.  No monetary compensation was provided and the opinions expressed are our own.  You can read what the other TOS Homeschool Crewmates had to say about this title on the TOS Homeschool Crew blog.