I have been, or can be if you click on a link and make a purchase, compensated via a cash payment, gift, or something else of value for writing this post. Regardless, I only recommend products or services I use personally and believe will be good for my readers.
Take Your Chili on the Road with Rubbermaid Party Platters has been compensated by Collective Bias, Inc. and its advertiser. All opinions are mine alone. #TraditionsToGo #CollectiveBias
When the temperatures start to dip, I really enjoy warm dishes. There is something about chili which gives it a special place in my family's heart. Rather than just putting a big heaping scoop into a bowl and calling it good, we like to do our own modified Cincinnati Chili for serving. This has become a tradition in our family for those cold winter nights when you want to warm up your body from head to toe.
Here in Alaska, we have a lot of potluck gatherings. So many people live apart from family members that your local community, whether it be your neighborhood or church, becomes an extension of your family. Our church has typically held a Christmas potluck party on a Friday night with everyone bringing a dish to pass and the kids eagerly awaiting the arrival of Santa Claus to listen to their wishes and provide them with a candy cane.
When considering that particular event as well as other get togethers this holiday season, I couldn't help but think about chili. As you can keep things warm using crock pots or cool just by sticking it outside (the Alaskan refrigerator!), a meal of chili is perfect to share or just have ready for when you return home from other activities like caroling, cross country skiing or our local Merry Merchant Munch.
If you've never seen or eaten Cincinnati Chili, the premise it to use pasta for your base with the chili on top. Then you have a variety of toppings to pick from that go on top. It can be as simple or elaborate as you'd like. When making it for the family, I typically do the base layer of pasta and chili which is then brought to the table for each family member to doctor up however they'd like.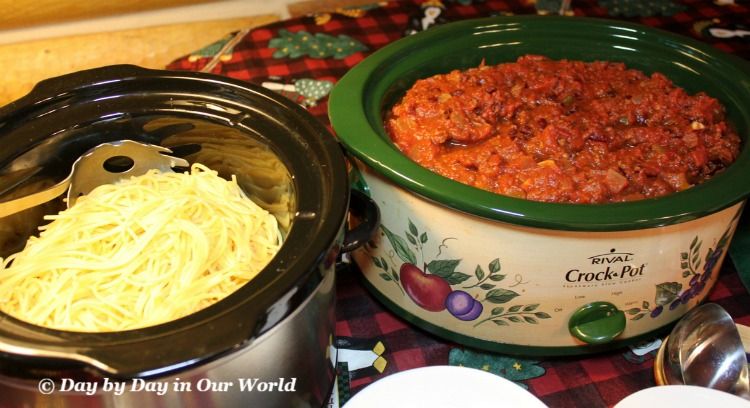 Of course, you need a good cornbread (either baked in a cast iron skillet or as muffins) and salad alongside to round out your meal.


And Alaskans enjoy their ice cream, so a double chocolate brownie with peppermint ice cream is a perfect dessert.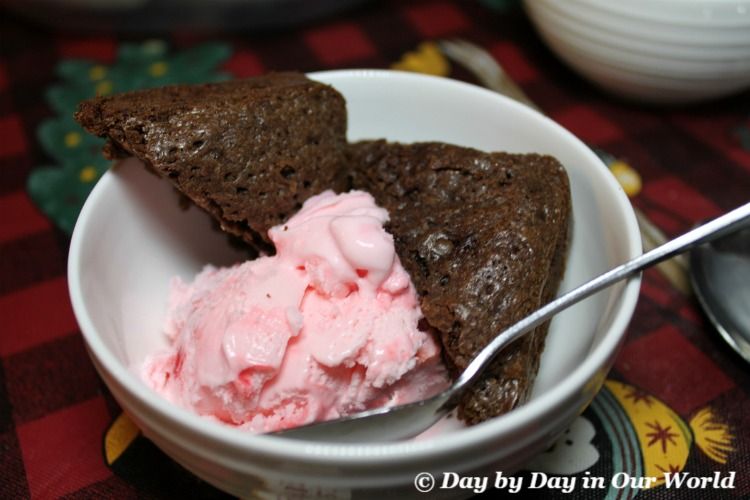 As much as I enjoy serving this meal at home for just my family, I have never braved taking it on the road with me. The idea of gathering up a bunch of small bowls and plastic bagging the to toppings to transport along with the main items had me avoiding it all together.
However, a recent shopping trip to Fred Meyer has me set and ready to pack it to go and share the love at potlucks this winter season. All I needed was a slow cooker that is more modest in size for the pasta (kept on warm with a bit of olive oil and cooking water so it doesn't stick) and a Rubbermaid Party Platter to transport and serve the toppings. Bonus for me is that using the Ibotta app I saved $1 off my purchase at Fred Meyer.

I am loving my new Rubbermaid Party Platter for a variety of reasons:
* it is lightweight
* it offers a smaller leak-proof container for dip or other liquid which has a screw top lid
* everything is kept snug with the secure lid which creates a tight seal.
While I just used this container for a Cincinnati Chili Winter Warm Up meal, the possibilities for how to use the Rubbermaid Party Platter are almost endless. Of course, you can do the typical vegetable or fruit platter. And it is a great container to bring appetizers without them getting squished together.
I'm thinking this will be fantastic for holding toppings and sauce for a make your own individual pizza party. Can you guess what's on our schedule for over the school break this winter? (If you said the kids are having friends over and we're serving up individual pizzas, then you are right!) And when you want something a little different for dessert, you can use it to hold a chocolate sauce along with fresh strawberries and pieces of pound cake.
If you are needing to prep for a party away from home, check out this prep list to help you stay on track!
Cincinnati Chili Recipe
If you like to see things visually, here's all the steps in a video format:
Yield:

12
Cincinnati Chili
Total Time:
6 hours
20 minutes
Ingredients
olive oil
6 - 8 cloves of garlic, diced
1 medium or 1/2 large onion, diced
1 to 2 green peppers, diced
1 10# can of crushed tomatoes
1 1/2 lbs ground beef, browned
1 lb. kidney beans, soaked, cooked and drained
2 Tbsp chili powder
2 tsp cumin
1 1/2 tsp paprika
1 Tbsp cayenne pepper
1 small square 85% dark chocolate (or use baker's chocolate to avoid all sugar)
1 to 2 lb. spaghetti
Toppings:
cilantro
parsley
diced onion
shredded cheese
sliced or diced jalapenos
sour cream
Instructions
In a small skillet, saute the garlic, onions and peppers. Do NOT overcook them.
In a large pot over low to medium heat, add the crushed tomatoes, browned ground beef and kidney beans. Stir to mix.
Add sauteed vegetables, stirring well. Allow to cook for 10 to 15 minutes.
Add square of chocolate, allowing it to melt and be stirred into the chili.
Simmer the chili for a few hours on low heat.
For best results, store the chili in the refrigerator overnight and then warm in the crockpot for a few hours before serving.
When preparing to serve, cook spaghetti according to package instructions. Drain and lightly coat with olive oil to keep it from sticking. You can reserve some of the cooking water to add back to the spaghetti in a crock pot to keep warm.
Serve with toppings and enjoy!
Notes
I keep the main chili on the milder side putting spicy ingredients in the toppings.
How would you use the Rubbermaid Party Platters to take your traditions on the go? I'd love if you would share your ideas!
What are some of your holiday traditions?
Do you often attend events where you need to bring a dish to share?