I have been, or can be if you click on a link and make a purchase, compensated via a cash payment, gift, or something else of value for writing this post. Regardless, I only recommend products or services I use personally and believe will be good for my readers.
This post on a new Christmas Book by David Nicholson, was made possible with the chance to review If He Had Not Come.
I can hardly believe that November is here and before we know it Christmas will be just around the corner. I love to read great books about the true meaning of Christmas with the boys, especially during the Advent season.
About If He Had Not Come
This book is a reprint of the story by Nan E. Weeks. The original version of this story was included in an anthology, Christ in the Fine Arts, by Cynthia Maus, published in 1938. It is available in hardback format for $18.95 or ebook for $3.99.
The story has a boy discovering what the world would be like if Jesus had never come to earth. He finds himself in a world that looks similar to his own, but with some stark differences. So many of the familiar places in his community ~ the hospital, the homeless shelter, the children's home and his church ~ are missing.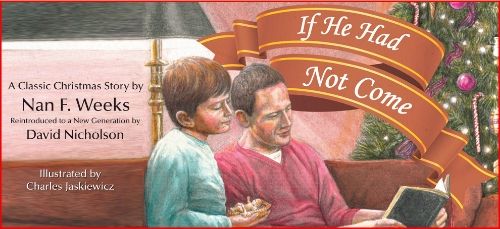 David Nicholson has 5 messages he wants to have the book to have for readers:
He wants readers to ponder the question, What if Jesus had not come?
He wants readers to come to the conclusion that life today would be very different had Jesus not come to Earth.
He wants readers to understand that everyone of us can have a personal, loving, and lasting relationship with Jesus Christ.
He wants families and/or teachers to have thoughtful discussions and personal application of this story with the kids in their lives.
Finally, he wants the story's power to be captured by children through this retelling and new illustrations.
Our Thoughts on If He Had Not Come
I was anticipating that my youngest son, J, would enjoy reading this book with me. I also anticipated having older boys be the readers so they might have a seed planted during the process which had them thinking about things. It isn't that they are super materialistic individuals who have no concern for others. Rather, I know how easy it is for even myself to be sucked into the commercialism of the season and find myself exhausted come Christmas Day rather than full of awe and wonder as we worship at church and celebrate the truly incredible gift God gave each of us with the birth of Christ.
Because life has been crazy for my older boys, I have not had them sit with J to read. He is just under the target age range of 6 and up for this book, but I suspected he'd enjoy it. Instead, we've had some awesome Mommy and J book reading snuggle time while his older brothers do their schoolwork. We enjoyed the gentle way this story is told and the illustrations really fit well with the words written.
We've had some interesting discussions after reading through If He Had Not Come. Beyond talking about how the world would be different if our Lord and Savior had not already come, we've also talked about how each of us is unique and can have an impact on the world that we might not even realize. J agreed that if he had not been born, then I'd have no one to give me kisses while sitting on my lap and telling me how beautiful I am. For me, that talk alone was priceless.
Do you have a favorite book to read with the kids during Advent and the Christmas Season?

Don't just take my word for how we found this to be. Visit the David Nicholson Christmas book post on the Schoolhouse Review Crew website to see what other homeschooling parents thought about this and other self-paced courses.