I have been, or can be if you click on a link and make a purchase, compensated via a cash payment, gift, or something else of value for writing this post. Regardless, I only recommend products or services I use personally and believe will be good for my readers.
This post, Children's Hospitals: There When You Need Them, is part of the 2016 Children's Miracle Network Annual Fundraising Campaign. As always, all opinions are my own.
Children's Hospitals.
These are the facilities you know are there. You may see pitches on media or in local stores asking you help the one closest to you.
But, we all hope that we never have to step foot inside.
Having a sick or injured child in need of medical attention is never fun. I'm sure that most parents are like me and would rather trade places with your child than watch them suffer.
Yet, life happens. And, with life comes some bad times.
Children's Hospitals: Our Grateful Story
Thankfully, I have not had a seriously ill child needing long-term medical care. However, with 4 boys in the house comes the increased possibility of injury.  Over the years, we've had both outpatient and inpatient care at a children's hospital.
Our first experience was when my 2nd born son broke his arm. It was actually a few days from when he broke it to when it was cast as he seemed to 'shake it off'. After falling another time and not rebounding quickly, we went to the pediatrician's office.  She took a look and then sent us off to Akron Children's Hospital for X-rays and any needed treatment.
3rd born snuck up behind an older brother who was enthusiastically digging with a shovel. Shovel met face right by the eye. While our local doctor would do stitches when needed, he was worried about the proximity to his eye. Off to the children's hospital in Akron we went where he was treated on an outpatient basis.
Fast forward almost 2 years and the same son was taken by ambulance from our local community hospital to Nemours Alfred I. duPont Hospital for Children in Wilmington, Delaware. He had thought it a wise decision to put a quarter in his mouth to hide from his older brother and accidentally swallowed it. The quarter was lodged in his throat. While the ENT on call at the community hospital could have done the procedure, he felt it was out of his realm of comfort given my son was 5 years old.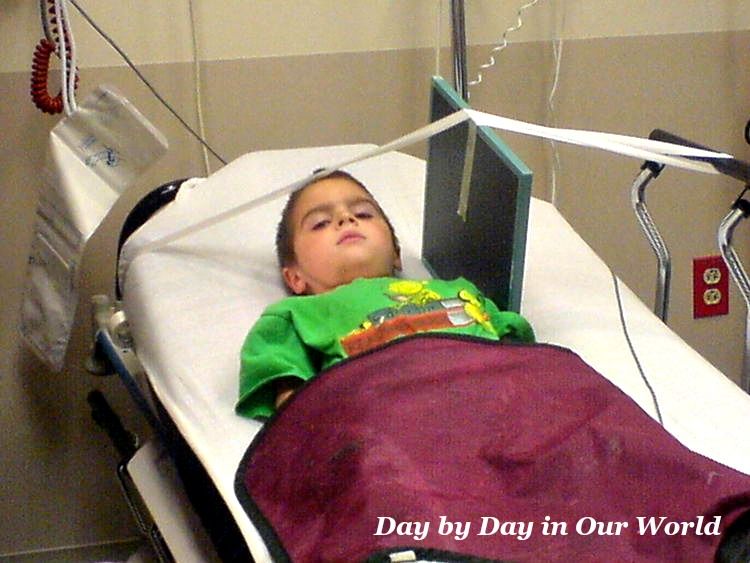 Unlike his previous experience with stitches, this ended up being an overnight stay with the surgical procedure done in the morning. Thankfully, the quarter had not obstructed his airway and stayed lodged in place while he sort of slept. He surprised me by asking that dad stay overnight with him.
By the time his brothers and I arrived the next morning, he was back in his room eating and drinking to his heart's delight. Considering his body's natural response to the foreign object had been to induce vomiting, he was a very hungry boy. And, he told me it was like magic. The doctor said he'd just take a little nap and then in a snap the quarter was out.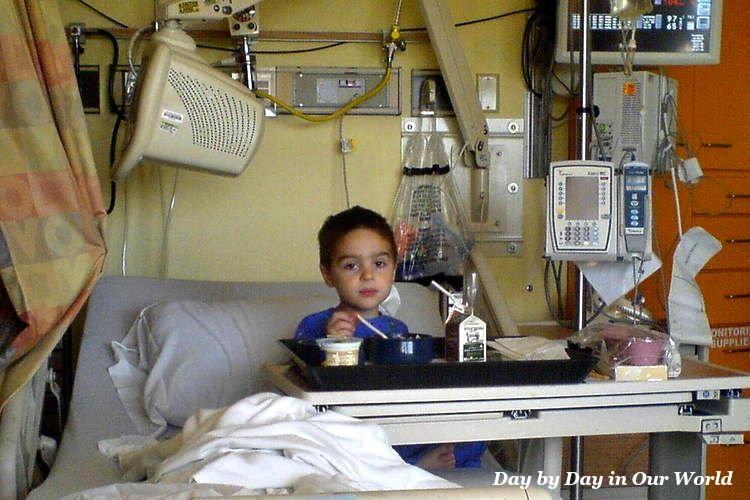 While we now joke about the $10,000 quarter safely enshrined in a medical container, it was definitely a scary time where one bump on the road had me worried about compromised breathing.
Children's Hospitals: There When You Need Them
I am so grateful to have lived in communities where there is a children's hospital. In some locations, such as Wilmington, Delaware, the children's hospital was free standing. Here in Alaska, it is inside of one of the major hospitals.
After all, kids are not just little adults. They often need a different style of care. And, they definitely need people who work well around and with kids. This combination of needs is what makes a children's hospital the best choice when available.
While our experiences are on the mild side, I have friends who are seriously indebted to the care received at a children's hospital.
Did you know that every minute there are 62 children entering one for treatment? And every year, the Children's Miracle Network provides $3.5 billion in charitable care. This means families who could not otherwise afford the care their child desperately needs are able to be helped. And it is all funded by donations from people around the country.


Now through October 9th, Walmart and Sam's Club have partnered with the Children's Miracle Network for their Annual Fundraising Campaign.
Go to your local Walmart or Sam's Club and you can be part of the solution to the ongoing need for the best possible care at these facilities. Our local Sam's Club has a fun display set up where kids can drop a coin and watch it spin around and down the well. Remember that every little bit helps. And everything raised goes to your LOCAL Children's Hospital.
Who knows, the next child helped with this fundraising campaign could be someone important in your life.
Have you used services at a children's hospital in the past?