I have been, or can be if you click on a link and make a purchase, compensated via a cash payment, gift, or something else of value for writing this post. Regardless, I only recommend products or services I use personally and believe will be good for my readers.
This post, Bring U.S. History Homework to the Kitchen, was made possible with the Eat Your U.S. History Homework book which we were provided to review from Ann McCallum Books.
When I was younger, I had little appreciation for history. To me, it was one of the most boring subjects to study in school. So many of my teachers had a cut and dry approach that relied heavily upon a textbook. While there are more 'textbooks' being written today that attempt to engage through story, that wasn't my personal experience. So, I love to find ways to help the boys get excited about the subject with books like Eat Your U.S. History Homework.
What is Eat Your U.S. History Homework?
My best description of this title is that it combines some history with the fun of cooking. Ann McCullum has written the text and enlisted the help of Leeza Hernandez to do illustrations that appeal to kids. Ms. McCullum pulled from years of educational experience to determine ways that kids might find learning particular subjects more interesting. She also has books for math and science, other subjects that some kids (and parents) come to dread. They all make use of a child's innate love of food by engaging them in the process of making a dish in the kitchen which ties to the subject at hand.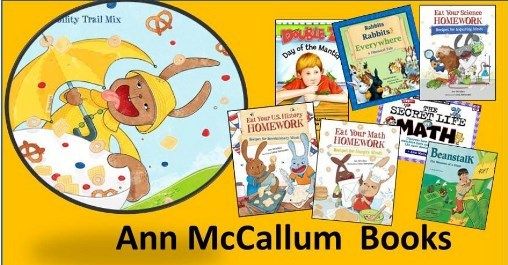 Eat Your U.S. History Homework has 6 different recipes hitting upon 6 events in early United States history. Each one is historically inspired and easy to make in your home. The book is subtitled "Recipes for Revolutionary Minds" which indicates where the primary focus is upon, the time leading up to the end of the American Revolution and election of George Washington as the first President.
Ms. McCullum begins the title with a quick timeline to familiarize the students as well as kitchen tips to ensure safety when working with food and all the equipment needed to make the recipes. Each of the dishes presented include history about the time period from which they arose.
The dishes made in the book along with the particular time period they cover are:
Thanksgiving Succotash (The Pilgrims at Plymouth, 1620)
Colonial Cherry-Berry Grunt (The Thirteen Original Colonies, 1607-1776)
Lost Bread (The French and Indian War, 1754-1763)
Southern Plantation Hoe Cakes (Slaves and the Southern Plantation, 1619-1863)
Revolutionary Honey-Jumble Cookies (The American Revolution, 1775-1783)
Independence Ice Cream (The Declaration of Independence, 1776)
Using Eat Your U.S. History Homework
American history is not our primary focus this year. However, for my youngest son the idea of gently introducing aspects of American history through the use of food was quite appealing for this fall.
I liked the layout of this hardback book. Each recipe is proceeded by a 2 page spread which includes a LARGE illustration and background information for that time period on the right hand page. The recipe takes up another 2 page spread with easy to follow instructions and illustrations that visually depict what they student is supposed to be doing. Finally, there is another 2 page spread with more history including a "side dish" which has related topics and a few questions to get curious minds thinking.
When you look at the ingredients and instructions for the recipes, you'll discover that some of them may be quite familiar to your family already. Lost Cakes is a version of what many call 'french toast'. Independence Ice Cream is the old ice cream in a bag approach which the kids always love to do (even in the dead of winter as our Boy Scout Troop has proven the last few years!)
The boys have enjoyed an excuse to hit the kitchen. Working through the book has given my 7th grader a reason to remember things he learned both in 4th and 5th grade where this time period of U.S. History was covered.
Simple, easy to implement, yet extremely effective in bringing history to life! If you want to help engage your elementary or even middle school student in social studies, this is a great way to supplement their learning. Now to see if Ms. McCullum will look at tackling later time periods for U. S. History in the same manner.
Do you ever use supplemental materials to help a child learn?
How have you approached history in your home to make it more engaging?
Don't just take my word for how we found this to be. Visit the Ann McCallum Books Review post on the Schoolhouse Review Crew website to see what other homeschooling parents thought about this and other self-paced courses.