I have been, or can be if you click on a link and make a purchase, compensated via a cash payment, gift, or something else of value for writing this post. Regardless, I only recommend products or services I use personally and believe will be good for my readers.
In the past few years, we've 'rowed' a few titles here and there with R and D. They really enjoy the Five in a Row approach as it is refreshing compared to textbooks.
Now that J truly enjoys being read to each day, we're ready to start utilizing Before Five in a Row.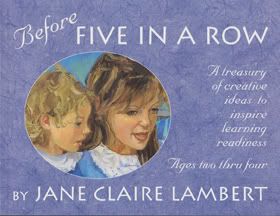 I'd eyed it up when D was still in pre-school and the local library had a copy on the shelf. While it had appeal, I didn't do much with it beyond taking the books included as great ones to read with him.
Now I am giving the book a closer look for ways to help J learn while being fun and engaging.
We are all enjoying the titles we've read so far. Goodnight Moon was already one of J's favorites, but we are expanding to include The Runaway Bunny. (Did you know the two books are 'connected' through pictures? I hadn't noticed it before.) Blueberries for Sal was already calling to me from the shelf…and we just had prime berry season for the bears!
What makes this particular title a bit different from the school-aged Five in a Row is the discussion of ways to engage your pre-school child in learning. This isn't the age when a true curriculum needs to come off the shelf for learning to occur. Instead, between quality picture books and plenty of hands on experiences, you can have your pre-school child soaking up learning without it seeming tedious for anyone.
I can see that we'll be using many of the suggested activities in this title for a while. Not only is this book inspiring for me as a mother of a preschooler, it is providing the opportunity to allow J's older brothers to help him learn in a positive manner.

Before Five in a Row retails for $35 through Rainbow Resource Center. This title will give you plenty of activities for learning with your pre-school aged child.
Disclaimer ~ Our family was provided with a copy of Before Five in a Row for the purpose of completing this review as a member of the TOS Homeschool Crew. No other compensation was provided and opinions expressed are our own. You can see what other TOS Crewmates have to say about Before Five in a Row on the TOS Homeschool Crew Blog.