I have been, or can be if you click on a link and make a purchase, compensated via a cash payment, gift, or something else of value for writing this post. Regardless, I only recommend products or services I use personally and believe will be good for my readers.
Life is busy, especially for families with multiple kids in the house. More often that I care to admit, we suffer from the 'what's for dinner?' query just an hour before the time people expect to eat. Batch Cooking is one way that families can solve this common problem. And, I am thrilled to share with my readers a new resource to help you succeed: Prep-Ahead Meals From Scratch: Quick & Easy Batch Cooking Techniques and Recipes That Save You Time and Money
by Alea Milham (who founded the food blog Premeditated Leftovers.)
Some of us might be old enough to have witnessed a relative (maybe even Mom) making use of the batch cooking approach. If you aren't familiar with this term, here's a definition for you.
Batch cooking is the process of cooking an item or group of items in bulk to be used in multiple meals in the future.
I've done this to a degree with planned leftovers when I make a recipe that serves 12 or more, like my Crockpot Red Beans and Rice. And, I have been known to bake 2 chickens in the large roasting pan at once instead of just one for dinner. Doing that often results in at least 3 meals plus a lovely batch of homemade chicken broth.
Alea walks you through how to batch cook different kinds of meat as well as beans and rice. Not only does each chapter share how to do the batch cook for the featured ingredient, but also how to store it.
My family was happy to help me test drive Prep-Ahead Meals From Scratch
and helped to select a few of the recipes we tried.
As Costco had a deal on pork loin when the book arrived, I grabbed a large one and set to work. I split the loin into 2 pieces. One went into the programmable crockpot
to cook with a goal of shredded pork. The other (larger piece) was roasted in the oven for our initial dinner of pork roast and subsequent meals using cubed pieces of pork.
The hands down favorite is Alea's Pork Alfredo Skillet with Spring Vegetables. My eldest son said it reminded him of a favorite 'quick' dinner from the freezer section, only better. We've also made it using chicken instead of pork and both came out great.

Another one that we enjoyed was White Chili with Rice. I found it tasty without heat while my heat loving older boys and husband said they'd prefer MORE heat included. Good thing we keep fresh jalapenos in the house as they can dice and stir them in as desired.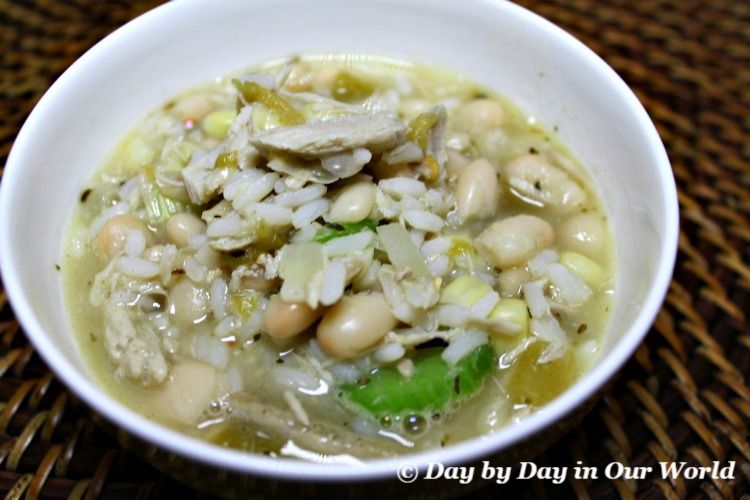 I think we ended up getting 4 family sized meals from the one pork loin for our family of 6 with enough cubed pork frozen for one additional meal down the line. Plus, there was enough leftover shredded pork for 2 boys to enjoy some BBQ Pork sandwiches for lunch. That's a total of 5 dinners & lunch for two from ONE pork loin at Costco.
This cookbook is definitely easy to use and most ingredients in the recipes are basic ones you most likely have in the house or can be found at any grocery store. Alea also includes a section for homemade pantry staples which I have not tried, yet, but am eager to delve into soon.
With a current price under $12 on Amazon, Prep-Ahead Meals From Scratch: Quick & Easy Batch Cooking Techniques and Recipes That Save You Time and Money
is certainly a resource I recommend for your family to eat nutritious meals which are also frugal.
Do you embrace batch cooking in your home?
What are some ways you approach the dinner hour without dread?