I have been, or can be if you click on a link and make a purchase, compensated via a cash payment, gift, or something else of value for writing this post. Regardless, I only recommend products or services I use personally and believe will be good for my readers.
I honestly can not recall if much time was spent in my formative years in learning HOW to learn. However, as a homeschool mother of boys who are not as intrinsically motivated to learn as I was during my youth, I find that they need to be taught basic study skills so they can learn. This is of critical concern to me at the moment as my eldest will be off to college in just over a year and needs those habits in place before leaving the nest. Thankfully, I have had a reason to be arming students for optimal learning with the Victus Study Skills System which includes both the Student Workbook and Teacher Edition.
About the Victus Study Skills System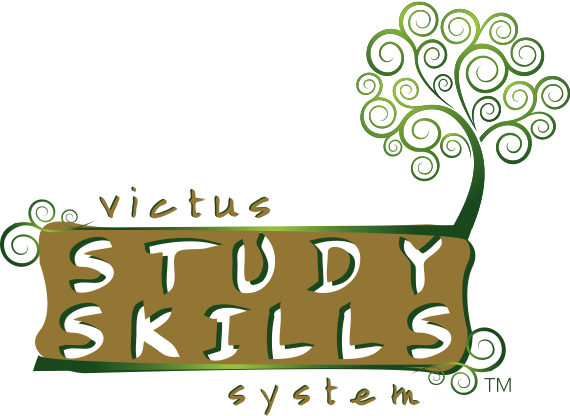 The Victus Study Skills System we reviewed includes both a student workbook ($20 )and a teacher guide ($40). The teacher guide not only has copies of the student workbook pages with suggested answers, but it also gives some background for the teacher and additional teaching points to include during learning sessions with your students. There are 10 lessons with a breakdown for a 5 day presentation in the teacher guide. Victus Study Skills also offers a self study student workbook ($25) which might be a good option for the homeschooling parent who can not find time to present the material to their child. While the products can be taught to all ages, the books are most appropriate for 5th to 12th graders.
The material is gathered into 3 foundational cornerstones:
Where am I now?
Where do I want to be?
How do I get there?
Where am I now? has the student considering what their current study habits and learning strengths are. The author then presents suggested aids for each learning strength which can help both the child and parent determine different ways of studying material that may result in greater success in retention.
Where do I want to be? is the section which has the student delving into creation of a mission statement, deciding upon goals/priorities, and then setting smaller goals to reach the larger ones.
How do I get there? fills about half of the workbook with topics such as time management, organization, procedures for studying material, note taking tips, and test preparation.
Our Experience with the Victus Study Skills System
Okay, I won't lie to anyone and say that the boys absolutely LOVED their time with me working through the program. Instead, they grumbled about how I was taking time away from their 'important' school work. However, they tend to procrastinate on much of their regular work so I wasn't accepting any excuses. That being said, they did not completely hate this program either. Instead, I had to both persevere in presenting the information and share practical examples as we went through the material.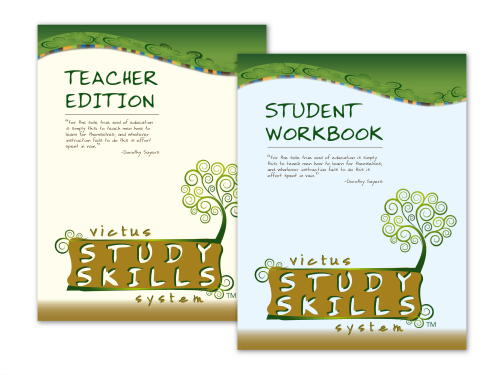 While parts of the book really seemed to fit for a traditional school setting containing a lecture and homework to complete, this program could be used to form good homeschool study habits as well. Regardless of your setting, every child should start learning about setting long term goals and then breaking it down to concrete steps that can be measured.
The topic which the boys saw as being 'useless' in their current learning environment had to do with note taking. Without a lecture to attend, they failed to grasp that note taking is still a skill they need. So, I spent time talking about using it when reading through material so that you can refer back to those notes to jog your memory without needing to skim or reread the original source.
As their homeschooling parent who is not only creating but grading tests, I took time to share about how studying for tests (especially using skills taught in this program) could help them improve their grades. My high school student gets the need for good grades a bit more than my rising high schooler comprehends. Whether time spent on this process pans out in the long haul is yet to be seen, but I am planning on reinforcement and use of materials in the appendix throughout the rest of this school year and into the next.
Even though they joked through the process, I sensed that the boys did enjoy thinking about goals they can be setting and how to achieve them. My eldest son has the desire to obtain his pilot's license and eventually fly helicopters. We used this review period to talk more about those long term goals and how to achieve them. With college looming in the relatively near future, we are also mapping out his senior year to meet graduation requirement with an eye to his desired major in engineering.
Bottomline….this is a good system to help parents educated their child (homeschooled or not!) in well grounded study habits that can pay dividends in the years to come.
How have you helped a child learn good study habits?
Do you often meet reluctance when providing tried and true tips to a child who 'knows it all'?