I have been, or can be if you click on a link and make a purchase, compensated via a cash payment, gift, or something else of value for writing this post. Regardless, I only recommend products or services I use personally and believe will be good for my readers.
You can encourage learning of American History with the Adventures of Rush Revere Book Series. This post was made possible Adventures of Rush Revere #1 New York Times Bestselling Book Series by Rush and Kathryn Adams Limbaugh for review as part of the Homeschool Review Crew.
Our family loves historical fiction. There is something appealing to reading those stories of people's lives long ago. And, sometimes you can actually learn a bit of history in the process!
About the Adventures of Rush Revere Book Series by Rush Limbaugh
Many people know Rush Limbaugh for his talk show and ultra-conservative views. But, I didn't even realize he was co-authoring children's books! This series focuses on the idea of "American Exceptionalism" which equates to America as being different from other countries with its foundation on freedom and individual liberty.
Here's an interview of Rush Limbaugh about this series of books:
The Adventures of Rush Revere Book Series is not like your typical historical fiction title. While sections of the book are set in the past, the main characters are from the present day. It is all made possible by Liberty the horse who can open up a time portal with Rush Revere speaking the specific destination in time and space.

Now, it isn't just Rush Revere and Liberty going off on these time traveling adventures to learn more about American History.
Rush Revere is a substitute teacher who wants to get his students excited about American History.
At first, he uses technology to broadcast his travels to the classroom. Most of the kids have no idea that what they witness is happening moments before they view it.
But, 2 of the students are a bit wiser to things. Freedom peaked out of the room when Mr. Revere left while the adventure was broadcast. So, she saw Liberty. And, then Tommy appears to be the troublemaker of the class, but is really quite bright. They are the first to join Mr. Revere on time traveling adventures, but not the only classmates who do in the series.
Books in the Adventures of Rush Revere Series
With 5 books so far, this series is poised to get kids excited about American History. Each title is available in hardback with thick, glossy pages inside.
Beyond the story, there are photos and diagrams which help to show key points of history.
Book 1: Rush Revere and the Brave Pilgrims
This is the start of the journey through American History. Visits include Holland where you meet William Bradford, the Mayflower launch and initial voyage, landing in the New World and the first Thanksgiving.
Book 2: Rush Revere and the First Patriots
Readers experience the time prior to the American Revolution, seeing how the colonists felt the need to seek freedom from England. More students join Freedom and Tommy on the adventures.
Book 3: Rush Revere and the American Revolution
Picking up where book 2 ends, the middle school students continue learning first-hand about American History. Dr. Joseph Warren, John Hancock, and George Washington are some of the important people they meet.
Book 4: Rush Revere and the Star-Spangled Banner
Rush Revere takes his class on a field trip to Washington, D.C. Only the trip isn't just seeing the historical landmarks there. Rather, they also jump into the past to witness events like the writing of the national anthem.
Book 5: Rush Revere and the Presidency
Rather than focusing on a particular period of time, Rush Revere uses Liberty's time traveling abilities to learn about the election process established by our forefathers. Student Cam learns not only from visiting the first 3 Presidents but also working with a modern day Congressman to see public office as a call to serve instead of a way to claim fame and glory.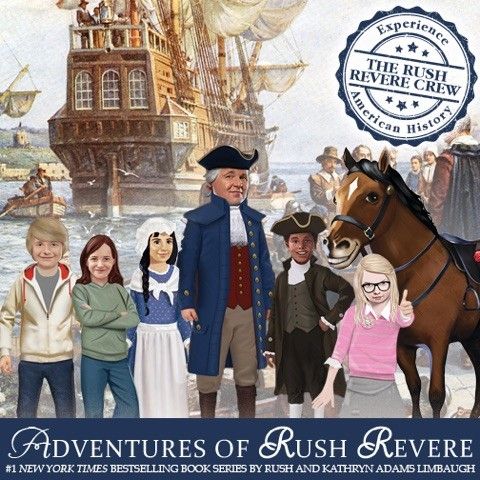 Our Thoughts on the Adventures of Rush Revere Book Series by Rush Limbaugh
For this review, I have been reading aloud from the books with my youngest son. Although he can read books written at this level, we are really enjoying the time bonding over the stories. Additionally, we can stop and talk about what is presented in the novels.
Anytime we encounter a new series, there is a sense of uncertainty. While history isn't considered boring in our house, the idea of a time-traveling horse and companions taking you on a tour of American History might sound a little silly. However, it is that "it couldn't really happen" factor that has made it so enjoyable for us.
Because we've taken a leisurely pace, we have only made it through Rush Revere and the Brave Pilgrims. If they were in audiobook format and not me reading them, we probably would have gotten through the entire set. However, reading aloud somehow takes more out of me than regular speaking does.
Additional Resources for the Rush Revere Series
Whether you homeschool or not, there are resources available on the company's website to help you expand upon the stories. While you can use them across ages, kids in upper elementary would have an easier time completing it all.
Inside the study guides are summaries of what should be learned from each section. There are also questions that can be used as a quiz to assess what they have learned. The questions are not difficult but do require them to recall events and names as they are open-ended instead of multiple choice.
Additionally, you can find activity pages for the books. For the first title, there is a word scramble about William Bradford as well as a label the Mayflower page.
Finally, you can find more fun activities and even video footage from fans on their Activity Page. Some of the activities are printable and others are played on the website.
Final Thought
Overall, this is a wonderful series to get kids excited about American History. I can't wait to see what other titles Rush Limbaugh will be writing in the future. There are many exceptional Americans to learn about and this platform helps kids do just that. These titles present facts you might find in a dry history textbook, but in a more interesting format.
I was also quite pleased with the quality of the actual books. The thicker, glossy paper seems more durable. Given that some younger students can be rough on books, this was definitely a well thought out detail to help them hold up over time.
Do your kids enjoy historical fiction titles?
Is American history of interest for your family?

Don't just take my word for how we found this to be. Visit Adventures of Rush Revere Reviews on the Homeschool Review Crew website to see what other homeschooling parents thought about this book.