I have been, or can be if you click on a link and make a purchase, compensated via a cash payment, gift, or something else of value for writing this post. Regardless, I only recommend products or services I use personally and believe will be good for my readers.
Like many children out there, my boys love to do hands-on science. And, I want them to do hands-on science, too. It just gets too easy at times to start relying upon reading books and avoid the messiness of experiments. Or, what happens in our house at times is that I am working with another child and can't interpret instructions or be a lab partner for a different child. There are some amazing experiments to be done at home, but they are not all set up to let the kids loose without parental supervision.
Amazing Science provides DVD demonstrations of experiments that get the kids excited about learning science.
At first, my boys were not so enthusiastic when I called them into the living room to view a science DVD. Maybe if I'd included that this particular science DVD was all about fun experiments they would have not grumbled so much.
The older 2 boys only got through viewing the first few experiments before they were up and collecting the necessary materials to replicate the experiments in our house. Truth be told, R was already gathering what he needed for the first experiment while P was watching the third one.
A little while later, D came back up after trying to hide and avoid science. Seeing his older brothers doing experiments got him excited and he immediately began watching other segments and plotted doing some of them on his own.
Here they are 'in action' with the Color Changing Milk experiment.
R sets up the Experiment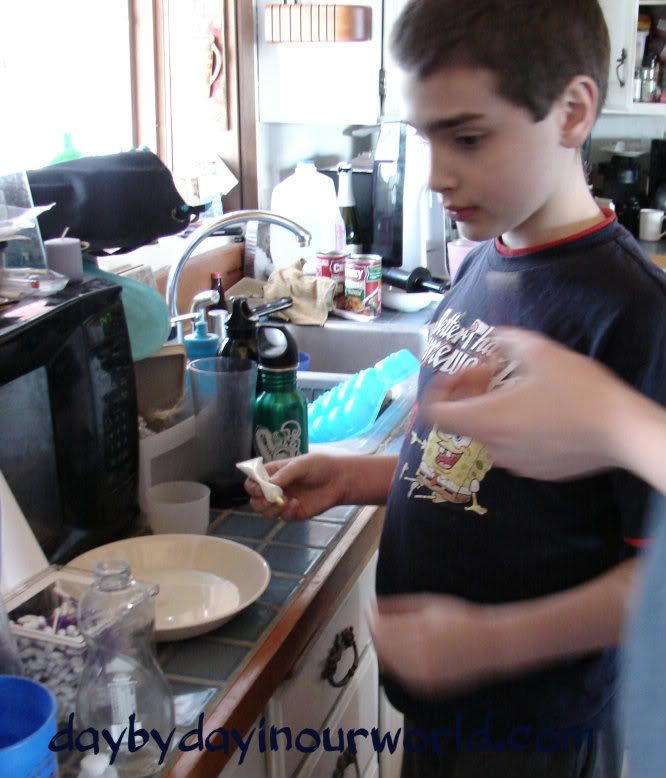 Ready to Break the Tension
See the 'sunburst' pattern?
I must admit that I made them save the second disc to do this month and 'stretch' out the science learning. I love knowing that I can now pull it out and get them started for a few afternoons full of fun learning.
Check Out the List of Experiments!
Watch the DVD Trailer!
Amazing Science, Volume 1 has a suggested retail price of $24.95, but is currently available for $19.95. You can find a handful of free science experiments on the Science and Math website, too.
***Many thanks to a fellow crewmate who created a supply list for this product. Visit her Amazing Science, Volume 1 Supply List page to print or save.***
Disclaimer ~ Our family was provided this program for the purpose of writing a review post. No monetary compensation was provided and the opinions expressed are our own. You can read what the other TOS Homeschool Crewmates had to say about this title on the TOS Homeschool Crew blog.