I have been, or can be if you click on a link and make a purchase, compensated via a cash payment, gift, or something else of value for writing this post. Regardless, I only recommend products or services I use personally and believe will be good for my readers.
Keeping electronic tabs on your child's use of the computer is becoming practically a necessity given the amount of time many children are spending online. I know that we have different protocols in place at our house to protect the boys from stumbling upon the wrong sites, or to limit the amount of time they spend on the computer. However, I often wonder if they are enough.
Action Alert is one program that allows you to help minimize the dangers your child may face when going onto the internet. In our family, we've experienced some of these and worry about a child's innocent clicks bringing others into our lives.
This particular program covers the following areas: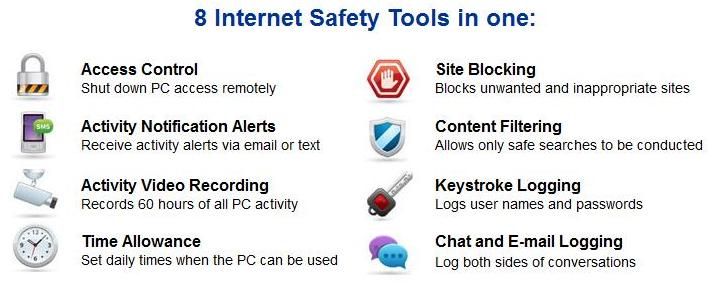 Action Alert is available for free, or as a paid version ($29.99) which provides multiple user protection is fully customizable, and has full monitoring of social media.
I was quite looking forward to testing out this particular software as I am quite concerned about what the kids might be exposed to online. However, the computer I was going to use the software on (which is a school one for the teen) was having issues that prevented me from installing it. I'm still working on fixing whatever might have caused these connection issues and have to wonder if it is related to my child's activity online (as in something he downloaded for free that is wrecking havoc.)
So, unlike other reviews for the TOS Crew, this one is strictly informational. Once I get things running on that laptop, I might be placing even the free version of this software on it to keep tabs. However, given that adding any software program like this can affect the way your computer operates, I would not be installing it on my personal computer.
Disclaimer ~ Our family was provided with the opportunity to download the paid version for the purpose of writing a review post. No monetary compensation was provided and the opinions expressed are our own. You can read what the other TOS Homeschool Crewmates had to say about this title on the TOS Homeschool Crew blog.