A little while back, I shared about how I was incredibly blessed with the addition of a Cricut Explore Air in the house. This DIY cutting machine is amazing and really offers a variety of project options.
After getting it all set up, I set down the path of learning by making a few projects from the Cricut Design Space.

Easy Projects with the Cricut Explore Air: Cards
I have several friends with a Cricut in their life who use it almost exclusively for making unique cards. After just spending what I consider a sheer fortune on a rather lackluster birthday card for my mom, I am definitely on board with making my own now. I'd far prefer to generate a card that is heart felt and customized for the recipient.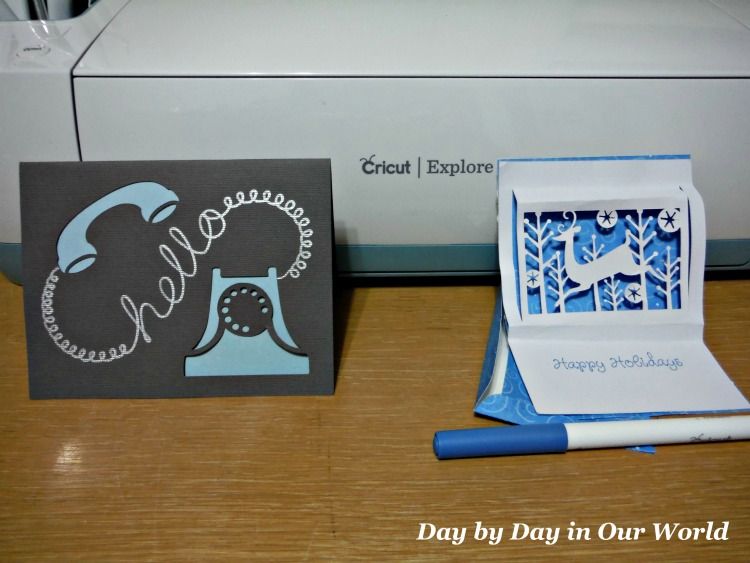 Included in the Cricut Exlore Air box were the supplies to make a "Hello" card (a free template in the Design Space.) This was the first one I did.
I was totally blown away by how quick it came together and yet looked phenomenal. You do need to take your time 'weeding' so that more delicate designs remain professional looking. But, I was done in under 15 minutes. I suspect that time would be even less with more practice under my belt.
I was feeling a tug towards something for the holidays. So, I made a card from Design Space which has a cut out deer. I only had white cardstock in the house, so I modified what materials were being used. White cardstock took the place of the light blue modeled in the design. Then I found a cute blue print paper from my scrapbooking supplies to use for the background.
Watching the machine make the cuts was beyond fascinating to me. I know that there is no way I could make the same item with just a craft knife in hand.
This one needed a bit more patience to weed and then figure out how to fold for the pop up. I feel like I somehow missed the mark, but my boys all commented that it is a pretty relief for a decoration, too.

Easy Projects with the Cricut Explore Air: Vinyl Labels
As I previously shared, I adore my plastic cup for water which has a vinyl cut out of the word hydrate on it. There is something about labeling that just helps define an object's purpose.
For a second easy project, I elected to make a label for my refillable foaming soap dispenser. The project also printed the work lotion which is waiting for me to get a container for lotion. I used a sheet of blue vinyl and the transfer tape to complete this project.
I did have a little 'oops' when walking through the steps. I completely forgot to move the dial knob from cardstock to vinyl before pressing the button to begin cutting. While I was able to transfer the cutout 'soap' label, it took some finessing as the machine had cut through the liner paper and vinyl.
Just the addition of that one little work in blue vinyl has me smiling at my soap dispenser.
Special Offer to Day by Day in Our World Readers!!!
Through December 31, 2016, readers of Day by Day in Our World can take an extra 10% off everything (excluding Cricut Access and Explore 2) AND receive free standard shipping! Visit the Cricut website to get started and then use the code 12DAYS at checkout.
What are some ways you would use a Cricut Explore Air?
Do you prefer to have things that are homemade or customized to generic items at the store?
This is a sponsored conversation written by me on behalf of Cricut. The opinions and text are all mine.