This post, Internet Accountability for a Safer Online Experience, contains affiliate links. It was made possible with an annual subscription to the Family Plan from Accountable2You for review as part of the Homeschool Review Crew.
Whether you like it or not, the internet is not going anywhere. More and more activities are happening online. This includes even young children as so much educational processes are now online. Add in the fun stuff and they can end up doing a lot on different devices.
As a parent, I want a way to make sure my kids learn to use the internet responsibly. And, I don't want it to happen with me standing guard over them 24/7. I just don't have time for that and I don't believe that approach with a teenager is going to give them the chance to grow.
About Accountable2You for Internet Accountability
Accountable2You is a subscription based software which you add to a device that monitors activity. What activity is monitored is set by you. This is internet accountability after the fact rather than a filtering service that prohibits certain sites.
Once you have an account, you can register the device or devices associated with the user. Then you add accountability partners who will get alerts (if something is flagged questionable) or daily reports of activity.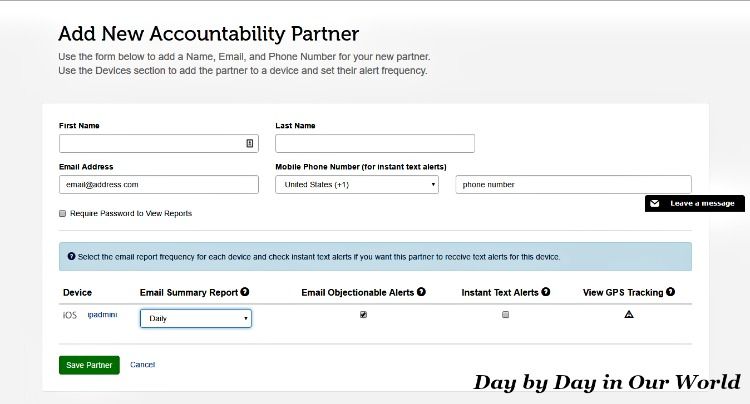 If someone has multiple devices, they need to select them all for tethering to an accountability partner.
As the primary registered user on a family account, I can see reports for each device.
You can look at time spent on the device (or in the Accountable2You browser if it is an Apple device).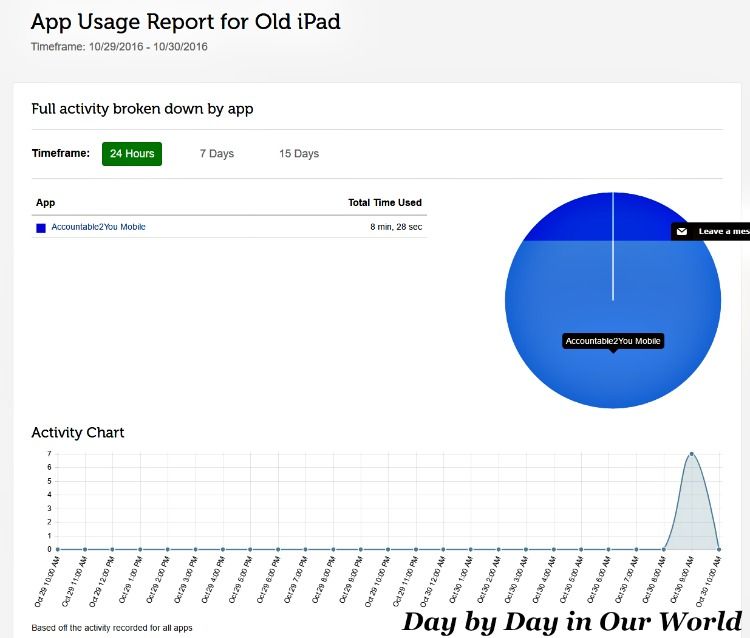 Alternatively, you can see what they were doing during that time. Looks like my one son decided to Google me as well as other family members.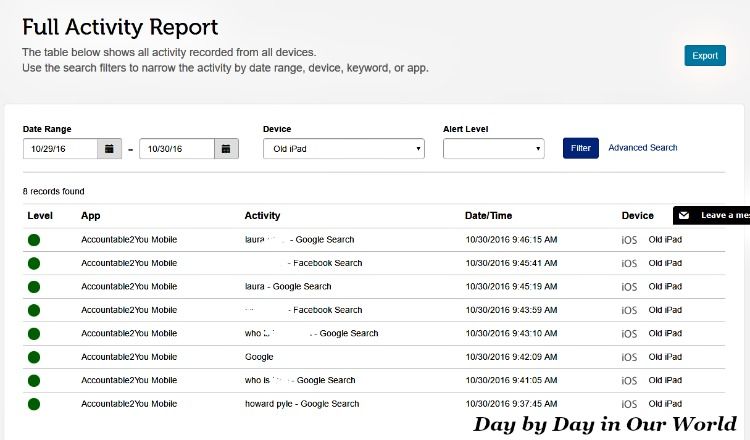 Accountable2You Options for Internet Accountability
There are a variety of plans available depending upon your needs.
The Individual Plan allows someone to designate accountability partners who can help them keep in check. You can have up to 6 devices registered to you on this plan.
The Family Plan is perfect for parents wanting to keep tabs on all the internet activity in their home. You can have up to 20 registered devices. Each child can be given their own account and there is a feature for time limits, too.
A Group Plan allows one administrator to manage individual accounts. Unlike a family plan, the administrator can not see the individual's activity unless they are listed as an accountability partner.
Finally, the Small Business Plan is for those business owners wanting to monitor activity on their businesses devices. There are no limits to the number of devices and the monthly charge is based on the number of registered devices.
Our Thoughts on Accountable2You for Internet Accountability
I wanted to LOVE this software. Too many times I have heard a child tee-heeing over something they saw online without my prior knowledge. Something which I would have never said yes to letting them see. Or, finding out that said child was online while we were all sleeping.
So, Accountable2You sounded like a great option to add to the restrictions already in place on those devices.
However, I soon realized that most of my sons' activities are on iPads. And this is where Accountable2You is limited.
Sadly, Apple's devices offer a "work around" for the tech savvy kids as activity in Safari can not be measured. They stated this on their website, but it didn't fully dawn on me until I started looking at one son's time spent on his iPad.
He quickly realized that the Accountable2You app only measures what you do in their specialty browser. Use Safari or the YouTube app and you escape the monitoring. It also means I couldn't set time limits or see if he was online in the middle of the night.
I took a peek at how it worked on my own Android phone. (As I am administrator, I can see the report without having an accountability partner.)
The difference is night and day!

Time spent in different apps was recorded as was the URLs for each page clicked on an incognito search.  I could even click to look at the GPS location.
Would I recommend Accountable2You for Internet Accountability?
If you are concerned about internet usage, both time spent and where it is being spent, then this could be a great program for you. Just keep in mind that it is an after the fact program NOT a filtering device.
I would recommend this for Android and Windows based devices before I would recommend it for Apple ones.
Even though a few certain teens might hate me for it, I am thinking the Accountable2You software is going to be required if they are going to be using our internet. Honestly, it is more about showing them how much time they are really spending on certain tasks compared to trying to monitor their every move.
Do you worry about what your child (or children) are doing online?
Would this internet accountability software be helpful for your family?

Don't just take my word for how we found this to be. Visit  Accountable2You post on the Homeschool Review Crew website to see what other homeschooling parents thought about this course and other ones.