This post, Freezer Meal Prep for Less Stress at Dinner Time, was made possible with an annual subscription to MyFreezEasy.com Freezer Meal Plan Membership  from MyFreezEasy for review as part of the Homeschool Review Crew. Affiliate links are present for your convenience. 
Do you suffer from the dinner crazies?
You know, those days when you look at the clock and realize it's after 5 p.m. and the family expects to be fed. Yet you have no clue what to make.
Well, this happens in our house more often than I'd like.
Planning meals on the calendar can help. However, there are some days which are so packed that finding time to cook is really challenging.  For me, that's every Thursday this fall. (Silly me for scheduling so much into ONE day!)
Years ago, I would purchase freezer meals from a company where my youngest sister worked. What a lifesaver! I could just go to the freezer and find something to pop into a crockpot in the morning or into the oven in the evening.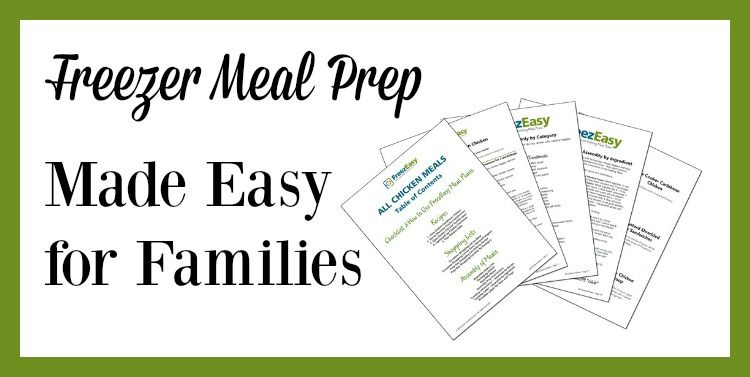 This isn't something new. But, the challenge for me is finding dishes the whole family will eat which are made for freezer cooking. Because not everything freezes well.
MyFreezEasy: Freezer Meal Prep Resource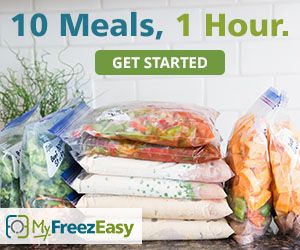 MyFreezEasy is the brain child of Erin Chase, the Founder of $5 Dinners. Her 'mission' is to help other families put great meals on the table without spending a fortune. Plus, you'll save valuable time as well. She promises that you can put together 10 meals for your freezer in an hour.
When you join at the premium level, you receive access to all of the meal plans pictured below.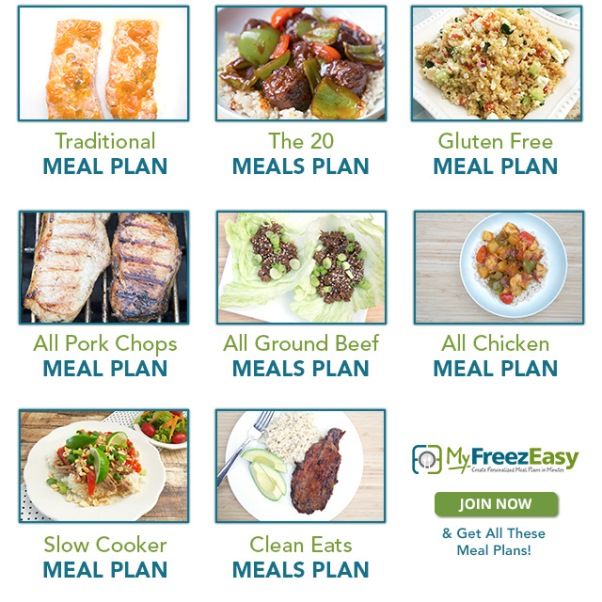 If you combine from several of them, you can easily stock the freezer to cover all your weekday meals for the month. You can also create a custom meal plan with 5 recipes chosen by you.
Each plan can be printed and gives you everything needed to pull it all together. There are even files for each monthly plan to print out labels for your freezer bags containers!
The
shopping lists help you get all you need at once.
And the individual recipes include
how to make it for dinner that night or how to prep it for the freezer.
There's tons of flexibility with it! She even includes how to make something dairy or gluten free.
Tools to Help With Freezer Meal Prep
While not required, there are some tools that can make your freezer meal prep a little easier.
Jokari Hands-Free Baggy Rack Clip Food Storage Bag Holder, 2-Pack
Finally, be prepared to put your leftovers (IF you have any!) into bags using these Jokari Hands-Free Baggy Rack Storage Bag Holders.
Whether it is leftovers or if you are prepping freezer meals, these are a super 'handy' tool to have in the house.
I know that holding a bag open on my own is one of the challenges when pouring food into it. Usually, I end up with several bites on the counter and a mess on the side of the bag.
That's not a problem when using these holders. Get leftovers into freezer bags quickly and with little or no mess!
&
Avery White Laser Labels for Color Printing, 3
As I mentioned, you receive files to print labels for each of the dishes.
These labels from Avery are the perfect ones for the job.
I tried to go 'cheap' by just writing onto my bags or taping on paper.
But, these get the job done much nicer than my other methods.
A bonus is they look so much nicer if you decide to help out a new mom or someone who needs help with meals. Plus there is no question as to what is in the bag as sometimes handwriting with a Sharpie pen can be blurry.
&
Another great help in any household is a menu planning board. I know that my boys love to see what's coming up for dinner. And, it helps me to adjust kitchen duties as needed.
I am currently debating which of the ones below would be fit our household.
Magnetic Refrigerator Chalkboard Dry Erase Weekly Menu Meal Planner Organizer
Magnetic Menu Dry Erase Weekly Meal Planner Board For Refrigerator
Magnetic Refrigerator Whiteboard,Weekly Menu, Meal Planner, Grocery Shopping List
&
My Thoughts on Freezer Meal Prep with MyFreezEasy
Overall, this is a great resource for someone who is either unfamiliar with freezer meal prep or someone like me who is trying to get back into the swing of things. I love to find new recipes to try with the family so we can break out of our rut. After all, you can only eat spaghetti with meatballs so many nights before you want to run screaming.
We've done a mixture of making meals for that night's dinner and prepping for the freezer. All of the recipes we tried made 4 servings. With 4 boys in the house, I was doubling all of the recipes so no one would rub their belly and say it wasn't enough.
One recipe that I split was making a BBQ Pork Roast for pulled pork sandwiches. The pork butt roast I got on sale was HUGE. Cutting it in half still left us with plenty of servings. The recipe was fine, although I'll admit that the next time I'll be tweaking it a bit for our personal preferences.
It is far easier to prep similar meals at once. That's why there's a 5 meal plan for beef, one for chicken and another for pork.
For instance, we found boneless skinless chicken breasts marked for quick sale at our local Sam's Club. Knowing I had several recipes from MyFreezEasy which looked appetizing and called for them, I bought several packages.
One dish was made for dinner that night with enough for leftovers at lunchtime. And, then I made 2 other dishes for the freezer.

I did find that some substitutions had to be made by me. One is the use of frozen onions & peppers. I find it takes me just a little more time to quickly slice and dice using my slicer shredder attachment on the Bosch than getting the prepared mix at the store. So, that's one thing I did.
Another in the chicken meal prep included cutting potatoes into smaller chunks instead of getting the baby potatoes at the store. Our local grocery didn't have them at all, so it was a necessity for me. Just note that frozen potatoes that have been sliced will turn a bit brown. Thankfully, my boys were able to get past the looks to eat their dinners.
Three dinners featuring marked down chicken done in just a little over the time to cook the one? That's a definite win in my book!
Have you ever done freezer meal prep to save time on busy weeknights?
Would this resource appeal to your family?

Don't just take my word for how we found this to be. Visit the MyFreezEasy post on the Homeschool Review Crew website to see what other homeschooling parents thought about this title and other grade level ones.