Reviewing Heroes of History: Ronald Reagan was made possible with a copy of  Heroes of History- Ronald Reagan and the corresponding Digital Unit Study from YWAM Publishing for review as part of the Schoolhouse Review Crew.
When it comes to learning about those who walked before us, it is far more engaging and memorable to read stories about them. Biographies are great, but they are not all created equal. And, reading a few lines from a textbook can barely paint a picture of who the person was and why you should know about them.
YWAM Publishing seeks to be that resource, one which will engage your child while reading about individuals who are worthy of admiration and should have a place in our memories.  We had the chance to review George Washington: True Patriot a few years ago and had positive feelings towards the company and product line.
About Heroes of History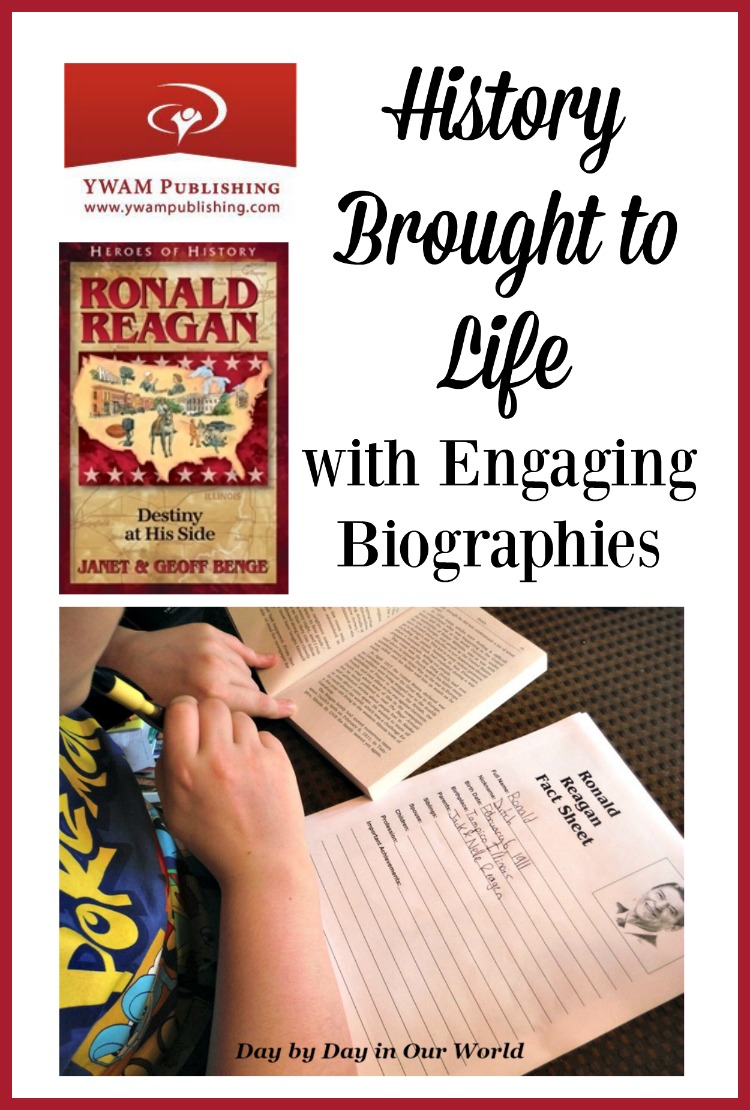 YWAM Publishing offers two lines of books. The Christian Heroes: Then and Now label (a total of 14) are decidedly focused on individuals living their Christian faith and touching many in the process. The Heroes of History label has 27 individuals who are deeply connected with United States history.  All of the books are available in paperback with many of them also offered as audiobooks or digital formats (generic ebook, Kindle or Nook.)
With an abundance of choices of people to learn about, you could easily dedicate a year of just reading the Heroes of History for social studies! YWAM Publishing even offers an add-on Map of the United States workbook to accompany these books and the ability to purchase a U.S. History Curriculum Special containing 24 of the books along with CD unit studies for 23 of them and the map workbook.
Heroes of History books are written in a manner that engages the reader through stories of these famous individuals. Topics from the areas of history, geography, government, and science are woven into the materials as they fit. While the books are written for an audience of ages 10 and up, they could make a great read-aloud for the whole family.
About Heroes of History: Digital Unit Study Component
When you receive the digital unit study download and unzip the files, you will find a Start Here html document. This will open up an interface which is user-friendly in your preferred browser (Chrome for me.)
The button specifying Ronald Reagan brings you to a short biography of him. This is great for a brief overview of his life and a way to wet your student's appetite to learn more about him.
Selecting the Curriculum Unit Study option brings up a screen where you can find overview guides for the educator based on whether you are using the book in a small group, classroom, or homeschool environment. The homeschool guide talks about using the books as your U.S. History curriculum or to supplement what you are already studying. Knowing that each homeschool is a bit different, they present ideas related to parent and/or student-directed study as well as how to incorporate the materials across different age groups. Finally, there is a focus on the use of the Heroes of History for social studies and language arts.
The actual unit study is then presented in two "sections." The first section has the bulk of the unit study. The second is a small group of pages to print out for the student. Ours included a fact sheet on Ronald Reagan, maps featuring Iowa & Illinois and then California, and a timeline sheet where they student can plot major events from his life.
Our Thoughts on Heroes of History: Ronald Reagan
From the title options available, my 7th grader selected Ronald Reagan: Destiny at His Side. He has heard so many family members and other individuals in his life go on about how great President Reagan was and had his curiosity engaged. When you are wondering WHY someone is held in such high esteem and talked about many years after his death, the best solution is to read about that person.
We received both the paperback copy of Heroes of History Ronald Reagan: Destiny at His Side and the digital unit study curriculum guide for this book. To save on paper, I sent the student portion of the unit study to an iPad (via my Kindle email address.)  As the digital unit study is not a workbook format, this seemed like the better solution for my son. I only needed to print the 4 pages included in part 2 of the unit study guide for him.
Overall, it has been very straightforward for him to use.  He does prefer to read an entire book rather than a chapter at a time, so that change is a bit of a struggle. Yet, he'll admit that it is easier to answer comprehension questions after reading each chapter than to go back to skim through the chapter in search of the answers.
Not only is he learning about Ronald Reagan, he is learning about history and other subjects at the same time.  The writing has kept him engaged and the unit study provides some challenges with the need to also dig a little deeper than face value for reading.
Don't just take my word for how we found this to be. Visit YWAM Publishing Review post on the Schoolhouse Review Crew website to see what other homeschooling parents thought about this and other self-paced courses.