For this post, Prepare for Serious Envy When You See the New LG Studio Line at Best Buy, the reviewer has been compensated in the form of a Best Buy Gift Card and/or received the product/service at a reduced price or for free.  All opinions are our own and links to Best Buy are affiliate ones ('cause we love the store!) 
While I am currently in a 'funk' when it comes to baking and cooking, I have historically loved doing those things. It is so satisfying to pull together something that can delight and nourish at the same time. Plus, the house usually smells phenomenal in the process. Tantalizing taste buds and helping friends and family feel cared for in the process…what's not to love?
With 4 hungry boys at home, you'd think I was just eating up the need to be in the kitchen. But, sadly, I am NOT inspired many days as we have a ho hum kitchen in our Alaskan log home.  If anything, I think beyond tired and bursting at the seams might be a better description. 
LG Studio Line at Best Buy
I had the opportunity to see the new LG Studio Line available from Best Buy when attending Type A Parent Conference in Atlanta earlier this month.  I think the overwhelming response from those of us stopping by to see it all was a resounding "WOW!" which was quickly followed by sharing which of the appliances we'd most like to bring home. 
For someone like me who is almost in hate with her kitchen, it was more like a desire to bring the whole shebang into my house.  Let's just say there was some serious envy trying to rear its ugly head in me looking at the shiny appliances just waiting to be used.
Seriously, which of these oven ranges would inspire you to get baking and cooking?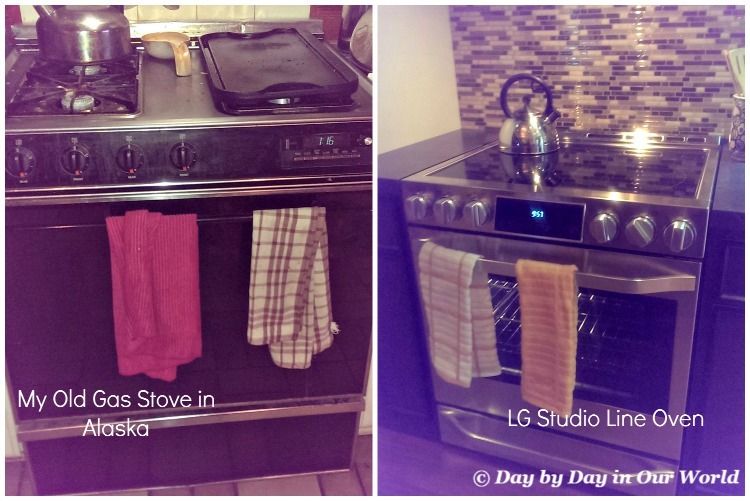 Watching the cooking demonstrations sponsored by Best Buy featuring local Atlanta chefs, two of whom had signed copies of their cookbooks to give away, added to my desire to do something about my less than optimal kitchen.  The food the different chefs shared was delicious and I could easily envision myself recreating many of the same dishes in a kitchen looking like the LG Studio Line set up they had.  I loved hearing Chef Virginia Willis share that fat = flavor, so you need to keep some in your recipes.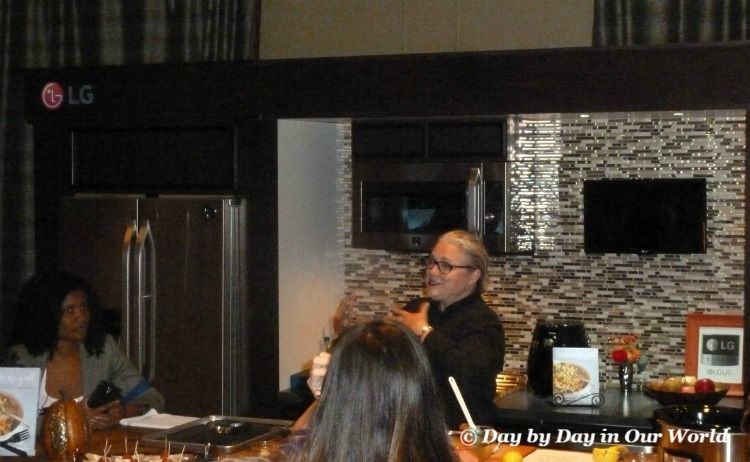 The LG Studio Line combines beauty with function.  These appliances boost pro-style features like hefty metal knobs and flat doors and have clean lines that are modern without seeming harsh in appearance. 
And, these appliances are built to work for you so that time in the kitchen is more enjoyable. Every LG Studio appliance is crafted from the highest-quality, premium materials and meticulously designed to incorporate thoughtful, innovative features for a kitchen that's distinctly your own.  
If you are seeking an uncompromising approach to design that makes a bold statement in a home and makes stylish addition to kitchen décor, then THIS is your appliance line.
This video featuring Nate Berkus, Artistic Advisor to LG Studio, is both educational and inspiring to me. It makes me want to really consider what my needs are for when we are able to redo our kitchen.
Given you have options as to where to make a high ticket purchase, you might wonder WHY go to Best Buy. Here are a just a few reasons:
Earn 5X My BBY Points on all LG Cooking Major Appliances (Runs through 10/31)

Save an additional $400 when you create your own 4 piece LG kitchen package (Runs through 11/3)

18 month financing on Major Appliance purchases $599 and up or 10% Back in Rewards

Free delivery, haul-away & recycling on Major Appliance purchases $399 and up  
I am now dreaming up what I'd be making if I had a sparkly kitchen featuring the LG Studio Line.  I can envision one awesome Thanksgiving dinner along with tons of baked goods for the holidays.
Are you in love with your kitchen or like me wishing for a demo crew to take the old one away?
What about the new LG Studio Line at Best Buy is most appealing to you?