This post on how to achieve the best school photo possible was made possible by Follett Corporation as part of their #FallBackToSchool campaign.
School has now been back in session for over a month.  I can't believe how quickly the time has flown!  Around here, it is now the school picture season and that means giving some consideration to what can be done to ensure the best photo possible.  You might not be able to argue with hair that won't stay down or a sudden breakout on the face.  But, you can take a few steps to maximize the likelihood that your child will want to look back at the photo some day in the future without cringing.  Here's my suggestions on how to achieve the best school photo possible.
Preparing for the Photo
If you child is going to a school, then you only have so much you can do to prepare.  Plus, the photographer coming to the school will not be taking a long time with each student.  Rather it might be a sit here, tilt your head this way, and SNAP you're done. But, even a few small things can make a big difference!
First off, help you child select the outfit they want to wear and if applicable how they will style their hair.   Do this the night before with everything laid out and inspected to be neat and clean. (Yeah, my boys don't always notice things like that!)  While they may want to express their personality, it doesn't hurt to give a thumbs down if what they want to wear will come back to haunt them. I know that there are some photos of me wearing what some might have considered appropriate for the times and all I can do is shake my head and wonder how my mother could let me look like that.  Or, more often I am wondering what possessed me to have a particular hair style. (Note to self ~ avoid really short hair!!)
The morning of the picture is a great time for a child with short wild hair to give it a quick wash and dry. GIrls with longer hair may need to do a little fussing to get everything in place. Younger children, of course, need a bit more help with getting the hair looking good.  Just remember (and remind them) that school picture day is NOT the day to oversleep and run to school looking like you just rolled out of bed. Sadly, I don't think my 7th grader has fully grasped that concept and I'll be waking him up a little earlier that day.
While you can't control what time their photo will be taken, if the lunch break is on the later side it is a good bet they'll be done before they eat at school.  So, make sure they do a quick brush of the teeth and maybe even floss to remove anything that might make their normally beautiful smile go into hiding. You can also consider having them bring a lunch of tasty items that are not prone to become stuck in their teeth or end up being worn down the front of their dress or shirt. 
If your child wears glasses have a discussion with them about how they want to handle the photos. Some kids prefer to keep their glasses on for pictures while others do not.
Finally, remind them to be themselves including sharing their natural smile. If a child is nervous about it, have them practice with you. Grabbing your camera or smartphone to snap some practice shots could go a long way for helping them be more comfortable.
Taking the Photo Yourself
A blessing, or a curse depending upon how you look at it, is that a homeschool parent can take their own photos.  I even have a few friends who elect to not purchase the school photo, but take their own on the same day for the memory book.
Unlike the school photographer, you need to gather your equipment (camera) and find a great spot. We are so incredibly blessed here in southcentral Alaska to have a myriad of gorgeous natural backdrops. With so many choices, it can be hard to settle on just one location. This photo captures the gorgeous Alaskan wilderness in the background, but our family is less of the emphasis.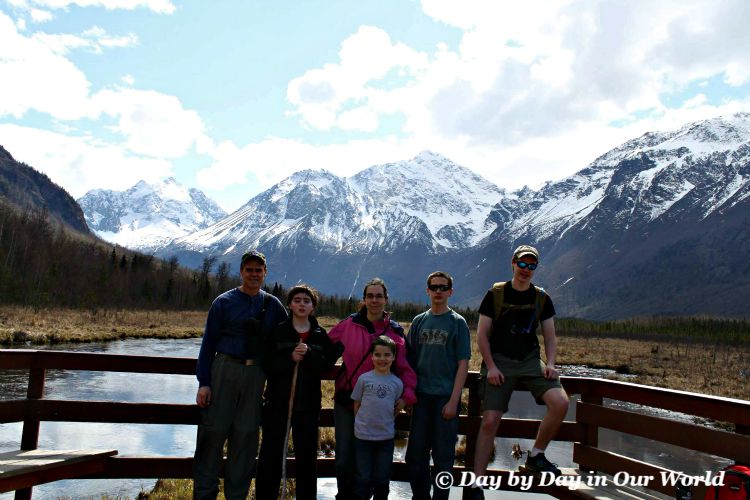 Things to consider for your 'backdrop' is whether it is busy (too many colors or things which distract the eye from your child's face) and what the natural light is like.  Full sun and partial shaded areas can be challenging to capture a photo with uniform lighting. However, we have some photos where the play of light adds interest and works. Shortly after sunrise and shortly before sunset are great times to get optimal lighting as it will be more diffuse.
When you snap the photos, spend time trying to frame the child.  If this is more of a headshot, then their head should fill most of the frame. This photo was snapped by my husband with his Canon DSLR of our youngest son last year.  Focusing on his face helped to mute out the background allowing you to hone in on his wonderful smile. 
If you are trying to get a sense of their overall size, then rotating the camera to capture their full body is what you'll want to do. On the first day of school, I snapped one of my third born as we walked to the school bus. I wanted more than his head and shoulders as the shirt he was wearing fit his personality well.
Remember that in the age of digital cameras there is nothing wrong with snapping 100 to capture the best school photo of your child.
School pictures are just thing that can create a bit of stress for a child or parent.  We all want our children to do their best and be successful in life.   
Follett is an expert at helping both parents and students with challenges faced in education from K-12. They shared this interesting infographic with me which shows that people are really split on the issue of technology in the classroom.  Even in my house, we have disagreements on how much screen time the boys should be allowed, regardless of it is educational or not.
Follett.com
I highly encourage everyone to take some time to consider the issue and share their thoughts with Follett on this issue or back to school tips of your own.  Just use the hashtag #FallBacktoSchool when sharing with @FollettNews on Twitter or on the Follett Corporation Facebook page.
Let's all make this year not only one with the best school photo possible, but with our children learning and growing into the adults we long to see them become.
Do you rely on a school photographer for annual photos of the kids or do you snap your own?
What are some tips you've learned on getting the best school photo possible?