This shop, Simple Hacks for the Best Road Trip Ever,  has been compensated by Collective Bias, Inc. and its advertiser. All opinions are mine alone. #RoadTripHacks #CollectiveBias #Carrs
Ever since I was a little girl, I have been making road trips.  Most of the time it was to visit family members in another state with a short stop somewhere along the way to lend more of a vacation feel. The rare exception was when we visited Disney World during my freshman year of college.
Since marrying and having my own family, I've continued the road trip tradition to see family or when possible accompany my husband to a conference. This summer we took what many could describe as an EPIC road trip totally over 8000 miles.  Planning ahead was crucial to keeping the adults sane and the kids happy. Pulling from my experience, I'm happy to share some simple hacks for the best road trip ever.
Simple Hacks for the Best Road Trip Ever: Map Out Your Route
Life on the road is a lot nicer when you have an inkling of where you are going.  Today's technology allows you to program a GPS system (built into your vehicle or freestanding) or get routes mapped out by a service such as AAA.  For our epic RV trip, we did the initial planning using AAA's online TripTik planner and then entered each night's destination into the RV GPS system or the Google Maps app on my phone to make sure we knew where we were and where we were headed.
Beyond knowing the path to get you to your destination, it is nice to break up the trip with short stops along the way. This could include knowing where a great rest stop with picnic tables and room to run are located.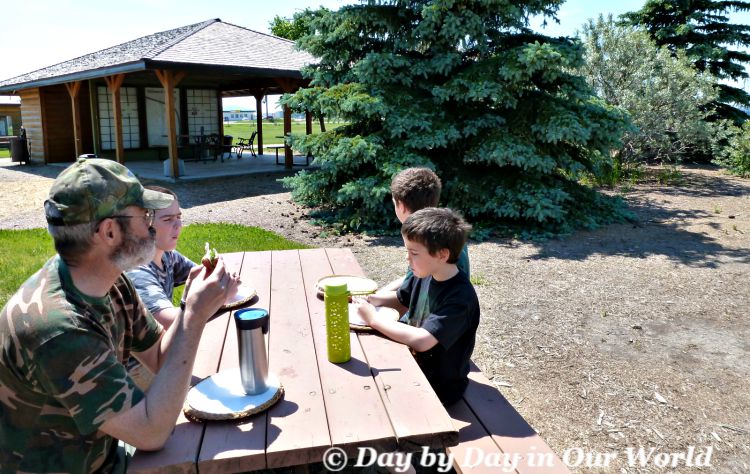 I have found that driving is so much nicer when everyone has time to get up and stretch.
Or, it could be a place that you'd like to visit which happens to be on your driving itinerary. 
Even though we had long days of driving through Canada for our trip we picked a few spots to stop and enjoy the local attractions. I even got the younger boys to cooperate with goofy photo shoots!
Simple Hacks for the Best Road Trip Ever: Bring Activities for All Riders
As much as I love to watch the scenery while driving, it can become rather monotonous after a while. My boys have even less patience and need things that will help them remain entertained or occupied while we are moving. What you bring can be determined by a few simple questions: "What do the kids enjoy?", "How much room do I have?", and "Will sibling issues be more of a problem by bringing this particular item?"  If the answer to that last question was probably, then having a timer at the ready was essential for peace on the road.  After all, you want the driver to be happy, too!
Favorite activity options that can be enjoyed by multiple individuals at once have been audio books, music CDs, movies (on DVD as we have a built in player in both the SUV and our RV), and games.  I have many fond memories of driving my three oldest boys from Ohio to visit my family in Louisiana listening to group favorites like Harry Potter and Artemis Fowl. My boys have brought books, handheld game systems and now the iPad or for the teens their iPods for individual entertainment.  I bring books, both print and my Kindle, as well as handiwork items like knitting.
Some of these items have also been used when we are not moving, especially games like chess.
Simple Hacks for the Best Road Trip Ever: Plan Meals and Stock Up on Snacks
My experience is that when you are in a vehicle for hours on end, you will have children that are suddenly hungry around the clock. Even though it is most likely from boredom, you should still plan for it to happen with lots of snacks on hand.
The other food related hack I have used for years is to pack all we need for our meals and bring it with us. When we have stayed in a hotel, I choose one with breakfast included so that's one less meal to plan.  Otherwise, I have sandwich fixings for lunches that can be kept in a cooler which gets pulled out at a rest stop along the way.
For the epic RV trip this summer, I included dinners and precooked our entrees and froze them to be thawed as needed.  A few (e.g. tacos) were portioned large enough to provide an alternative to sandwiches at lunch time. Doing this saved my sanity as well as some serious cash and lost drive times. 
While summer is winding down, there is still time to get out there and have more adventures. With this in mind,  I recently visited our local Carrs Safeway store to restock supplies for our last RV trips of the season.  They had a great selection of products throughout the store which my boys love.
Some even had awesome sale prices that helped me stretch my budget and snag coffee and a little 'treat' for parents only.  
Now I am looking forward to hitting the road again and seeing what adventures we might have.
I'd love to hear about your dream travels, whether in the past or planned for the future!