This post,Early Learning at Home with a Focus on Critical Thinking Skills, was made possible with the chance to review the Preschool Curriculum  from La La Logic as part of the Schoolhouse Review Crew. 
I have a dirty little secret to confess. We have never sent one of the boys to a preschool program.  Even the older boys who went to a brick and mortar school for kindergarten did not have that experience which so many of my friends consider essential.  Instead, we had a focus upon early learning through life at home.  (Hmm..maybe I was a homeschooler in the making way back when!) 
However, with older boys at home and crazy Alaskan weather it isn't as easy for me to do all the library story times and other small group meet ups with my youngest son that I did for my older boys. So, I have enjoyed finding early learning programs we can use that take a short burst of time to complete and can be done from the comfort of my living room. When La La Logic's Preschool Curriculum entered the house, I knew we just might have a winner.
This program is an online subscription service which is a one time purchase per family.  The material is broken into 100 weekly schedules which are grouped into 10 sets. You can find a suggested schedule for each week broken down by day with no one day taking more than 20 minutes to complete.  There is also a spot in each week's main page to jot notes (which I didn't feel the need to use as J worked through the first few sets of the curriculum.)  
Part of the time is spent doing fun online activities (Brain Challenge) which focus on critical thinking skills and the rest of the time is completing enrichment activities found in weekly pdf files the parent downloads.  This is accessed on the week's page.  As a child completes the activities, they will be told when to try again or when they've met the goal. The option for additional practice is built into the system as well as a way to move to the next activity once the previous one is shown as mastered.
Be forewarned!  The Brain Challenge can be so much fun that a child wants to keep going on just that without following the suggested weekly schedule.  If you find that happening, just direct the child on over to the Continuous Brain Challenge mode found on the page when you first log into the program.  There is the option to pick which lesson to start with (always the start of a particular set of weekly lessons.) You might want to set a timer, though, so they have a definite end time as the activities will keep coming without outside intervention.  Thankfully, J has not wanted to do the Brain Challenge for more than about 15 to 20 minutes in one sitting.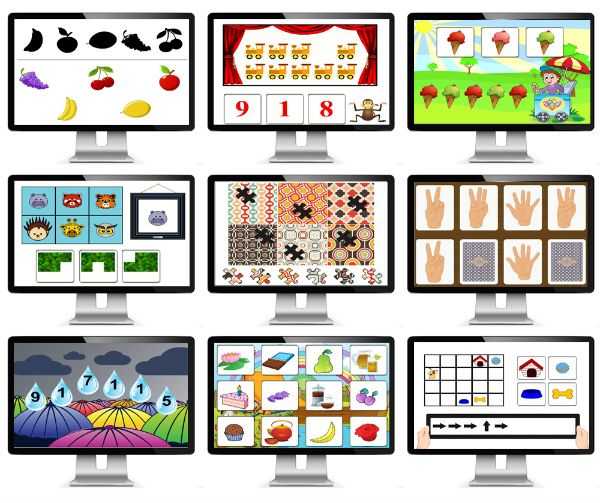 The printed materials contain both enrichment activities to be done with a parent or siblings as well as a form of worksheet that has them working on a needed skill, such as developing basic motor skills such as cutting with scissors with an added bonus of matching or pattern development. Everything is tied together, though, so that after the 100 weeks of material your child should be fully ready to start kindergarten with the skills they need to be successful.
For those who like to keep track of where you are, there is a spot to check off when a week's activities are done.  This makes it easy to go right where you need to go. And, I found that my 5 year old loved seeing the new x mark on the chalkboard charts as shown below. Plus, he has great satisfaction of knowing right where to click to get to the proper weekly lesson page. 
Overall, J and I have been quite pleased with La La Logic's preschool curriculum to help me meet my goals for early learning at home.  He gets some fun computer time (which he covets as older brothers do work on the computer) and I know that the amount of screen time is kept low with the inclusion of the enrichment activities.  He also has enjoyed each occasion for cutting with scissors as he is not given unrestricted access to them and enjoys being able to say "I've got this!" to me when I ask if he needs help.
How do you approach learning for your preschool aged children?
Do you incorporate online learning platforms with more hands on activities?
Don't just take my word for how we found this to be.  Visit the La La Logic Review post on the Schoolhouse Review Crew website to see what other homeschooling parents thought about this and other self-paced courses.