Our family was sent a KRAKEN A.M.S. CASE FOR APPLE IPAD 2/3/4 from Trident Case to review.
Do you have different devices around the house that the family uses?  Beyond computers, I know that our family is like many of our friends with other devices such as an iPad, tablet, Kindle, or smartphone in the house.  These can be wonderful ways to help educate or entertain the family.  However, any device that we've purchased is not made to withstand the daily demands put upon it by our boys.  No amount of reminding them prevents things from being dropped (on accident or a fit of rage) or precariously perched upon something. 
The solution for helping protect our investment in these devices lies in purchasing a case that can take a beating and leave the device functional at the end of the day.
About Trident Case and their Military Tough Cases

Trident Case offers many different solutions for those devices.  The Kraken A.M.S. Case for Apple iPad ($69.95 retail) which we reviewed is one that can be used by all ages.  All of the cases come in a variety of color options, too.  There are 8 color choices just for the one we received.
As shown below, three pieces will fit together to form the protective wrap around the iPad.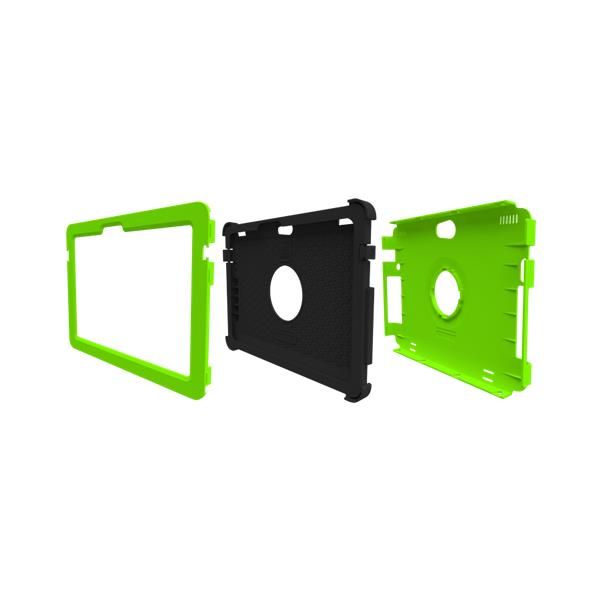 If you've never put together a protective case such as this one from Trident, then you may be a little stymied as to how to get the pieces apart.  There are little clips that can be gently lifted to pry the individual pieces apart to then be placed on your device.
  The silicone works to absorb shock from less than gentle handling of the device. Then, a hard polycarbonate shell is clipped onto the outside for added durability so the silicone does not succumb to early wear and tear issues.
Silicone plugs and filters are in place to protect all of the access points you need (e.g. power plug, audio jack, and speakers.  The silicone also covers buttons such as the power button or volume control while providing a bright burst of color to know where to push. (An all black case would not give you that color burst as an indicator.)
As proven in independent testing, the Military Standard (MIL-STD-810F) for Drop, Vibration, Dust, Sand and Rain is met by the Kraken A.M.S. cases.  Those measures are: 26 drops onto concrete from 4ft., 20-2000Hz across 3 different axes for a total of 18 hours, blow dust for 3 hours at 29 ft / sec., blow sand for 3 hours at 59 ft / sec., and 7.9 inches per hour of rain at 40 mph wind velocity for 1 hour.  Pretty impressive!
A really neat feature exclusive to Trident Case is their patent pending audio technology that redirects sound to the front of the tablet to provide an enhanced audio experience.
And, to top off all those great features, Trident Case carries a Proud to Be Made in the USA label.
Our Thoughts on Trident Case
Overall, we are in love with this case.  While I do like a different brand's built in stand for a different device we have, that is not a feature which makes or breaks my decision to purchase.  Plus, that case is bulky and adds to the weight of the device.  It's amazing what a few ounce difference can makes.
One thing I really like about the Trident case is that the red we choose provides a nice indicator of where everything is located on the iPad.  No need for me to flip it around and around trying to find the volume controls or power button!
Another thing that we noticed right away is that the audio technology for Trident really works.  The volume was magnified compared to the same setting on the iPad in an older case we had been using.  And, it wasn't just this older mother noticing the difference.  My 16 year old was quick to say he couldn't believe their claim was true.
Thankfully, we haven't had more than the occasional drop from someone's lap (or chair) to the ground with this case.  After dusting it off, the iPad has continued to function as intended.
Curious what other reviewers had to say about Trident Case as a solution for protecting their technology? 
Read their reviews
and see for yourself.
What types of technology are in your house that the kids use?
Do you have protective cases on them or just hope and pray that nothing will break?