In the past, our family has had the opportunity to review the online music program, KinderBach.  J was quite young when D reviewed it in the past (read reviews from 2008, 2010 and 2011).  I distinctly remember how much he loved to 'dance' when the videos were streaming into our home.  So, I was thrilled that he'd have the chance to experience it himself as a preschool student this Spring.  And, for this review we were given access to the The KinderBach Online Piano Lesson Membership with Teacher Corner.  Off we began our journey this winter for laying a musical foundation with KinderBach!
What is KinderBach?
KinderBach is a program to teach basics of music with children from ages 3 to 7 as their primary audience.  Miss Karri and her 'friends' (which include a young boy named Diego and several animal friends) help the child learn the basics of music with the use of activities that engage all the senses.  The beginning lessons not only introduce finger numbering for future piano playing, but they introduce the concepts of high versus low notes as well as basic rhythm.  This is done through a mixture of motion with songs, time at a keyboard, and printable pages that reinforce learning through coloring.
The program can be used online as a subscription product (currently on sale for $95.88 for one year) or in hard copy (DVD and print books) format with the price being tied to the number of levels purchased. For this review, we were using the online program which also provides access to their online teacher corner which is geared towards classroom instruction.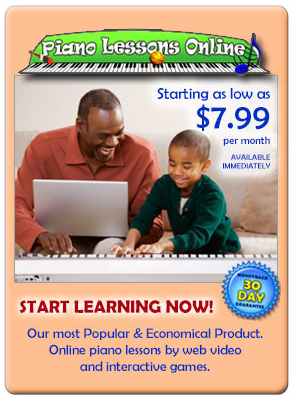 Using KinderBach is Easy to Do
Once you have a subscription in place, you log into the system.  There's a screen showing for each level the breakdown by week.  Each week has an introduction video and 4 segments.  If there is a printable to be used, you will see that pdf file underneath the video segment.  Once you watch one segment, you can move to the next one by clicking an arrow.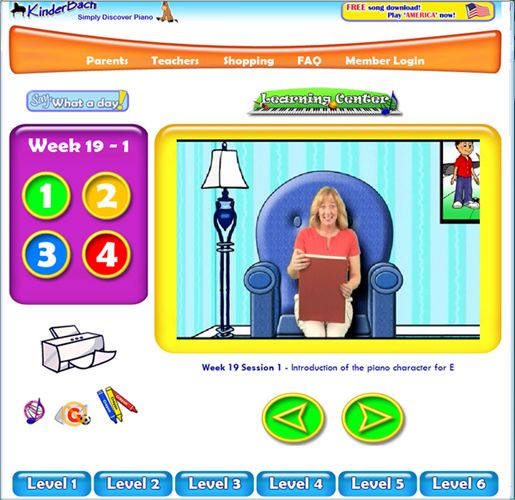 If you like to pre-plan, the printable pages for each level can be downloaded in the teacher corner by level and printed in advance of each 'session' your child completes.  In that section, you will also find lesson plans to teach the material in a group setting with the online video segments serving as reinforcement.  All of the songs for the levels are also up in that area as mp3 files.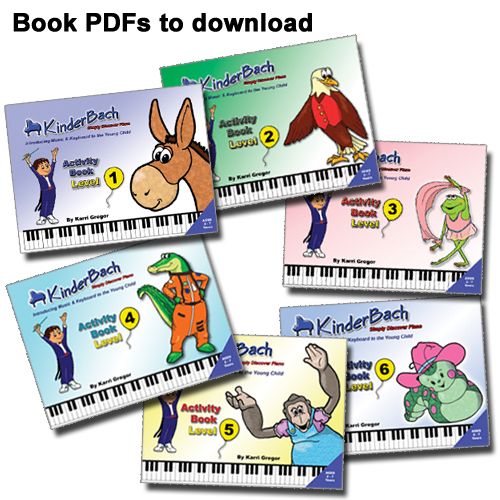 Our Experience with KinderBach to Learn Music
As I mentioned, this is not the first time we've used KinderBach in our home.  During the last review, J was old enough to pay attention and have a grand time shouting "Dodi, Dodi" as he danced around his older brother.  Knowing how much he loved to 'learn' with this program alongside his brother, I was curious to see what his response was now that he is in the target age range.
He LOVES it!
But, while he loves the videos, music and printed activity sheets, he is going at a slower than expected pace through the material.  Yet, I am not discouraged as we are taking a slightly different approach than when I used KinderBach with my older sons.  I printed out the teacher lesson plans from the Teacher Corner and we will do everything together on some days and then work through the week's video segments later in the week as a reinforcement for his learning.
Can he play 'music' yet?  Not really.  He's still working on matching Miss Karri's tempo (or should I say Diego's walk?) when he uses the digital piano.  Sometimes he will use the mini keyboard (through the KinderBach app) on the iPad instead.  But, for a little guy he is improving greatly in short order with selecting the correct keys and starting to get a more even tempo. 
As someone who studied piano for over a decade through my childhood and young adult years, I am not stressed over his slow progress.  If anything, I am glad that he is having FUN with the program and figure that will lay a foundation for future music lessons.
Curious what other Schoolhouse Review Crew members have to say about this product?  Visit the KinderBach Tour Page and find out!
Want to keep up to date on KinderBach?  Find them on social media:
Facebook:  www.facebook.com/kinderbach
Facebook for Teachers:  www.facebook.com/classroomkinderbach
Twitter: @KinderBach
Pinterest: https://pinterest.com/KinderBach/
YouTube: KinderBach Preschool Piano
Do you have young children in your home that love to learn through music?
What approaches have you taken to teach music to your children?