Since moving to Alaska over 3 years ago, I noticed that I was shifting away from using coupons at the store when shopping.  Our bank account was showing this shift as the amount spent on groceries and basic items for the house took a bigger bite out of it.  However, I'm back to thinking before I buy now after receiving Couponing Made Simple from Christi the Coupon Coach for review.
About Couponing Made Simple by Christi the Coupon Coach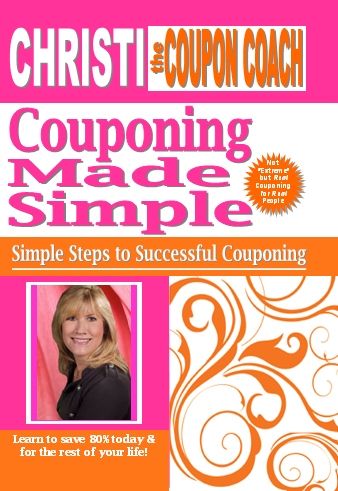 Christi is a mom just like so many of us who wanted to be a good steward of her family's resources.  Couponing is the way that she's chosen to help keep the cupboards stocked with out draining their bank account in the process.  She's not an 'extreme couponer', but rather someone who believes in "Real couponing for Real people."
Couponing Made Simple ($20 suggested retail for print or $4.99 in Kindle format) shares Christi's organization system for her couponing method breaking everything down into a step by step plan that anyone can follow.  Putting her advice into action has saved families anywhere from 50 % to over 80% on their grocery bills.  That's a LOT of savings that can then free up money for other needs or even a few wants of a family!
Check out Christi on a daytime TV appearance about her system:
Implementing Couponing Made Simple by Christi the Coupon Coach
Here in Alaska, there are a few 'challenges' that I didn't have when actively using coupons back East.  To start, the Sunday circulars of coupons are much smaller than those in other areas of the country.  Secondly, the grocery stores I frequented in Ohio, Maryland and Delaware also offered double and sometimes triple coupon events throughout the year which helped to quickly multiply my savings.  I consider it being part of a 'captive' audience up here as to why neither of those conditions are present.  People just pay what they have to pay to get what they need and living in the large metropolitan area of the state at least means we do not pay upwards of $10 for a gallon of milk.
Having spent years keeping our family's cost for groceries at a reasonably low point, I was already fairly well versed on coupon use.  But, I was out of practice and reading through Couponing Made Simple helped me to 'remember' a few things I had forgotten like stacking coupons from a store with manufacturer's coupons.  I even got a little brazen for me and managed to stack a store coupon for a weekly sale with a store coupon that was not as date specific.  The cashier wasn't sure if it would work, but it did!  So, the container of ice cream ended up being 40 cents cheaper for me and it wouldn't have been if I hadn't stepped out of my normal routine and tried it.
During the review time, I also cleaned through my coupons to toss expired ones that had built up and then clipped and sorted a small handful from the Sunday newspapers.  I've also been checking out a few blogs that post online coupons.  I'm still learning the easiest way to find those as a few sites do not have an easy search feature.  Christi was so nice to point me in the direction of one that specifically matches up deals for Alaskan stores, although I think the ladies running it have taken a break this summer as the Fred Meyer match ups haven't happened each week.
I can't say that I've completely adopted the couponing lifestyle now.  Instead, I'm just making sure to double check my coupon stash and the online sites for those items I'm already considering for purchase at the local stores.  Or, in the case of a recent trip to Walgreens, using a free product coupon when that product is a BOGO sale item.
With our large family, we tend to shop the warehouse stores more often for basics than the necessities.  Those locations (Costco and Sam's Club) do offer occasional coupons or instant rebates that I will take advantage of for stocking our cupboards and freezers, but they do not accept other coupons.