When a homeschool parent reaches the high school years, they can tend to get a little nervous about teaching math to their child unless they have a strong math background. Even for those of us who took upper level math through college, it is nice to have other resources available to help reinforce learning for our child.
.
Professor Martin Weissman has developed math911, a computer based product that covers all the typical topics for several high school level math courses.  The program is NOT fancy nor does it have the feel of a video game like some programs for younger students.  This is more about making sure the student can do the problems with success achieved when they've consistently answered correctly.

Unlike a traditional school approach, you don't get a bad grade for missed problems.  Instead, you get more problems to do until you can do it well.  Many educators are seeing the benefit for a mastery approach.  And, from several years and different boys learning under my watchful eye, I can say that they fair better when they do not start considering themselves failures and therefore unable to ever do math well.
While there is no textbook supplied with math911, the topics covered would allow you could use it as a complete program.  math911 provides step by step solutions with explanations for all problems.  After clicking on see solution, that button changes its caption to see all steps.  So, it is possible to have them learning as they work through the program or use it to check competency if using in conjunction with a textbook.
About Professor Martin Weissman: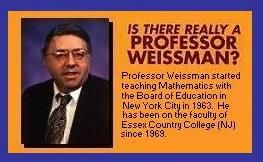 Professor Martin Weissman has been teaching Mathematics for nearly 50 years. Passionate about the subject and fueled with the desire to help students overcome their fear of Mathematics and to master it, he developed the Math911 tutorial software. 
Our Thoughts about math911:
P has only been doing review with the introductory algebra right now.  His current learning plan had just geometry for math this year.  However, we've made the decision to double up on math this school year so he's eligible for a summer program he wants to do next year and that means Algebra II has to be completed.  So, he's going to be digging into the Intermediate Algebra Course soon.
We've also used it just on a single computer for the moment.  Our family is setting up a network drive, though, and I plan to spend some time getting math911 installed on the network later this year so R can also be using the program.
I also took some time to test my abilities on that introductory algebra course and was pleased with the simplicity of the program as well as the breadth of topics covered.  I'm also hopeful that the younger boys will enjoy this program when they are ready for it, even though they are more drawn to the colorful and action packed programs that look more like a video game.  I also like that they offer free updates as they become available and make themselves available for technical support issues.  There are plenty of options out there for educational programs, but not all provide great customer service and support.
Interested in using Math911 in your home?  Here are your options:
1. The math911 Standard  Version contains a complete Introductory Algebra Course (Algebra 1) and can be downloaded from www.math911.com. No credit card nor Rebate required.
2. The Premier / Premier Password/ Network Password versions are $49.95 for all 3 (not each), include free upgrades and technical support, and in addition to the Introductory Algebra course you receive Intermediate Algebra Course (Algebra 2), PreCalculus topics, Trigonometry topics,  and an Introductory Statistics Course.
Professor Martin Weissman share a bit about the Activation Codes for Premier, Premier Password, Network Password.   Upon purchase ($49.95) you should:
1. Click on Register button and email us the Registration Codes
2. Identify themselves as a home schooler.
3. They will receive a reply email with ALL Activation Codes for all versions listed below:
     a) Premier Version (one user no password)
     b) Premier Password (Multiusers with Passwords)
     c) Network Version (Multiusers with passwords)
4.  Users can switch between versions by clicking the REGISTER button and entering the codes for the desired version.
5. Passwords are generated by the software.
Final opinion?  This is a no frills program that will cover the typical topics for algebra in high school as well as some trigonometry and statistics.  Considering that you can use it with multiple children for more than one year of math and not have to pay for updates later, the $49.95 for the download is quite appealing.
Disclaimer ~ We were provided with the materials mentioned in this review to facilitate a review as a member of the Schoolhouse Review Crew. No monetary compensation occurred and all opinions are my own. You can see what other Crewmates had to say about this product and others by visiting the Schoolhouse Review Crew website.