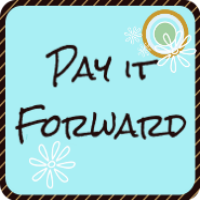 I recently had an email in my inbox from Holly over at A Life-Sized Catholic Blog.  She's returned to school and found it challenging to blog while balancing her course load.  However, she's back on a lighter basis and has revived the Pay It Forward meme!
For this month, I am going to feature 2 Catholic bloggers and a third site that has recently arisen.
Erika blogs over at Raising (& Teaching) Little Saints.  She spent years educating other children and is now answering God's call to home educate her own.  You'll find a mixture of thought provoking posts related to the Catholic faith as well as some humor, and home schooling posts.  I loved her recent post, A Laundry System that Works! You'll even find a book review (Call Me Kate, a historical fiction selection) I wrote for her blog.
Monica over at Arma Dei: Equipping Catholic Families is the kind of Catholic mother I aspire to be with some neat products to help educate the kids (and maybe even a poorly catechized parent) in the Catholic faith.  Her most recent post was about making Catholic Valentine's day cards using photos of the Saints.  If you are looking for inspiration in how to celebrate Lent, you'll find a Lenten Link-up with several bloggers sharing their ideas.  Our family was also given the opportunity to do a review for one of their family's products, Color Me Catholic: New Roman Missal Edition.
Finally, I want to share more about the Catholic Blogger's Network.  Erica had messaged me about trying to do something to pull together other Catholic bloggers and maybe do a giveaway link up.  I told her I was in and willing to help as I could.  Well, before I knew it she had a Facebook group started that quickly grew.  Monica came on board and got busy with her creativity and set up a website for the Catholic Blogger's Network.
It is a work in progress, but we already have some other Catholic bloggers highlighting a favorite post or even just linking up on the Catholic review link-up page.  I linked mine and was pleasantly surprised to find 18 Catholic product reviews to share.
There you have it…2 awesome Catholic blogging mothers that I am proud to have as online friends and a network that we all hope will become a beacon of light and way to share our Catholic faith.
Don't forget to see who else is participating in the February Pay It Forward meme this month!  I'm looking forward to reading through them and will be considering who to feature next month here.